This is a user's buying guide for best swivel recliner chairs and contains information related to 10 best swivel recliner chairs for your Home and Nursery.
Are you a parent looking for a comfortable chair for the nursery? or you are someone who wants a chair upon which he can sit back and relax easily?
If that's the case, then don't worry you are at the right place.
We have a solution that can solve these problems and take away the trouble you are in. And that solution is a Swivel recliner chair.
Swivel recliner chairs are a beautiful addition to your home.
Here, the question arises, what is a swivel recliner chair?
Well, A Swivel Recliner is a chair that not just rotates 360 degrees to its left or right but provides you with the option to recline backward and lay back. Meanwhile, the footrest is where you can place your feet and enjoy the utmost comfort you desire.
The swivel recliner chair can be used for simply relaxing to bottle feeding or breastfeeding your baby or maybe you can just sit back easily and let your baby enjoy the sleep in your lap.
There's another benefit for the parents!
After some time when your baby does not require the swivel recliner, you can move it out from the nursery to the living room. Isn't it amazing?
Without stretching any further, let's have a look at the list of these best swivel recliner chairs and find out which one suits you the best.
10 best swivel recliner chairs
1. Babyletto Kiwi Electronic Recliner and Swivel Glider, Grey Tweed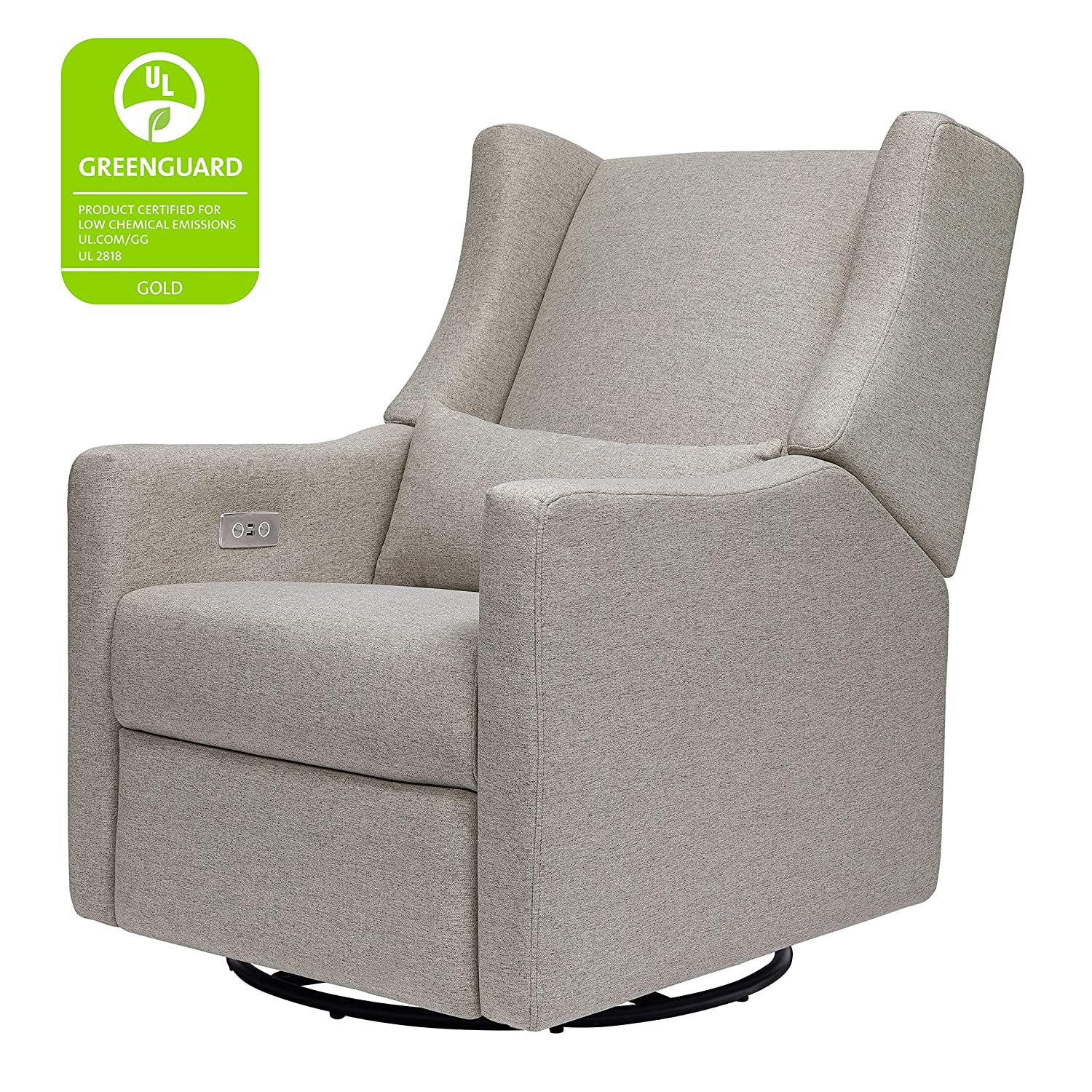 If you are looking for a chair that not only reclines, swivels and glides but also provides you something extra: maybe like a USB port to charge your phone or a push button to change the position of the recliner, then you are surely looking for babyletto's kiwi electronic recliner chair.
The recliner of this chair is not only quiet and smooth but can be controlled with a simple push button.
Overall, the chair is extremely comfortable for every type of person.
Whether you are a parent who is going to use it in the nursery or someone who is going to use it in the living room or the TV lounge, you certainly are going to have the best swivel recliner chair as a companion.
This product is completely handmade along with being absolutely free of any chemical retardants.
So your baby is safe from all the harm with the benefit of your personal comfort in hand.
Also, you can insert or remove the lower back pillow of the recliner if you want to, suiting your personal needs and comfort.
Specification
Product dimensions: 28.8 x 38.2 x 40.2 inches
Product weight: 117.7 pounds
Weight Capacity: 300 lbs
2. Delta Children Dylan Nursery Recliner Chair, Blush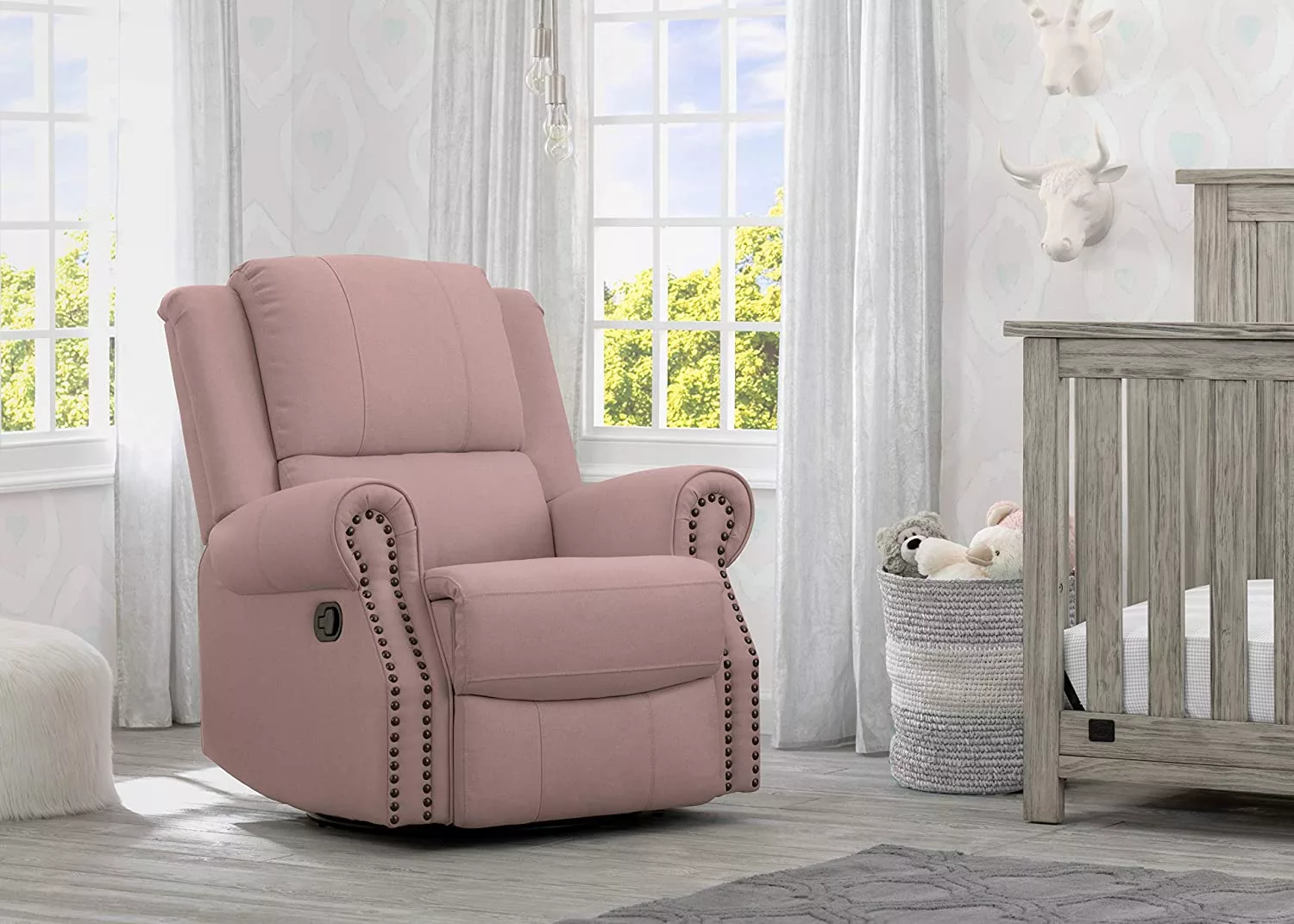 This swivel recliner chair is crafted perfectly by keeping in mind the needs of the baby and the parents.
It is not your average swivel recliner for the nursery but one that is sturdy, comfy, and beautiful at the same time. And that's what makes it attractive for our list of 10 best swivel recliner chairs.
The gliding functions add more to its amazing features and makes it attractive for parents who are going to use it in the nursery.
All of its functions such as the glider, swivel, and recliner are perfectly smooth. Which makes it even a better choice than those expensive but loud and clingy recliner chairs.
It doesn't make any sound while changing the position which allows the child to enjoy a comfortable sleep.
This swivel recliner chair also helps the mothers to lay back and relax while the baby is sleeping.
The pull tab reclining system makes it easier for the parents to change the recliner position without putting much effort.
Also, the head support system is great and goes well, even for tall people.
This recliner chair is well-tested by the manufacturers for safety and durability which is an exceptional benefit for the ones who are concerned about the safety of their baby.
All these features, make it perfect for the nursery meanwhile making it equally suitable for use in the living rooms because of its decent design and reliability.
Specifications
Product dimensions: 34.5″L x 35.75″W x 40.25″H
Seat cushion thickness: 8.75 inches
Product Weight: 95 pounds
Suggested weight capacity: 225 lbs
3. RecPro Charles 30″ RV SGR Swivel Glider Recliner Chair – All in One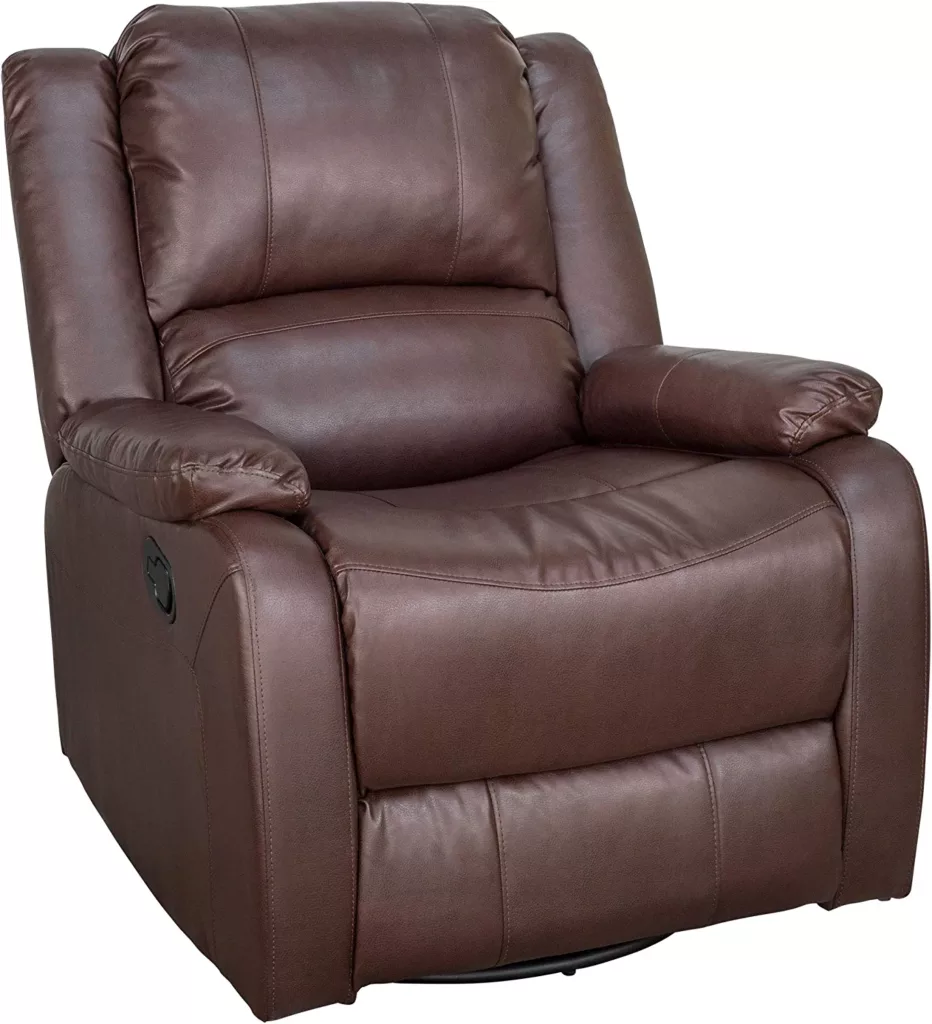 Although this SGR recliner chair is for RVs, there are a few reasons for this being on our list.
The first things that are looked for in a recliner are its functionality, comfort, and design, and this one provides all of them. Its headrest, cushions, and back are all well-padded which provides comfort at its best.
The swivel function and the recliners work very well and can be adjusted as per the need.
This chair is a good choice for RV and living rooms because it fulfills all the requirements of the customers.
For some, the foam on the chair is too much but surely it makes it extremely comfortable for relaxation.
The dimensions of the product are very good. It is wide and high and allows the person to fit in well whether he is tall or short.
There are two different reclining positions that allow you to recline according to the work you are doing. For example; If you are reading a book or watching TV, you can use it on position 1. But if you are trying to relax, you can move to position 2 which is more reclined.
For all of its benefits, we would suggest it to use it for the living rooms, lounges, or the RV's.
But do not use it for nursing. This is because if you don't want too much foam, you might feel uncomfortable while nursing.
Specifications
Product Dimensions: 30″W x 39″H x 37″D
Frame diameter – 24″
4. Baby Relax Rylan Swivel Recliner Chair
Rylan swivel gliding recliner is perfectly suitable for this list because of the smoothness of the recliner and glider and the softness and comfort of the material.
The armrest is not just wide but also very soft.
This recliner comes in two parts and is easy to assemble. So, the assembly doesn't take more than 5-10 minutes.
The ball bearing mechanism is used for the gliding function along with the swiveling function to make the process more smooth and more enjoyable.
The footrest is also very comfortable and well placed but there is a slight problem with it. It is hard to close and requires much effort. So, that is sometimes difficult for new mothers.
Despite this previous issue, this swivel recliner chair is among the best recliners because of its ease, comfort, beautiful design, and reliability.
This Swivel recliner chair is a wonderful piece of furniture for the living room, lounge, and for nursery.
It allows the baby and the mother to have the ultimate comfort required. So, the parents can focus on other matters related to the baby. Instead of being worried about the relaxation of the one babysitting the child or the comfort of the baby.
This swivel recliner chair also has a 1-year limited warranty.
Specifications
Product Dimensions: 32 x 38.2 x 39 inches
Product Weight: 91.3 pounds
Weight capacity: 225 lbs.
5. SUNCOO Massage Recliner Bonded Leather Chair Ergonomic Lounge Heated Sofa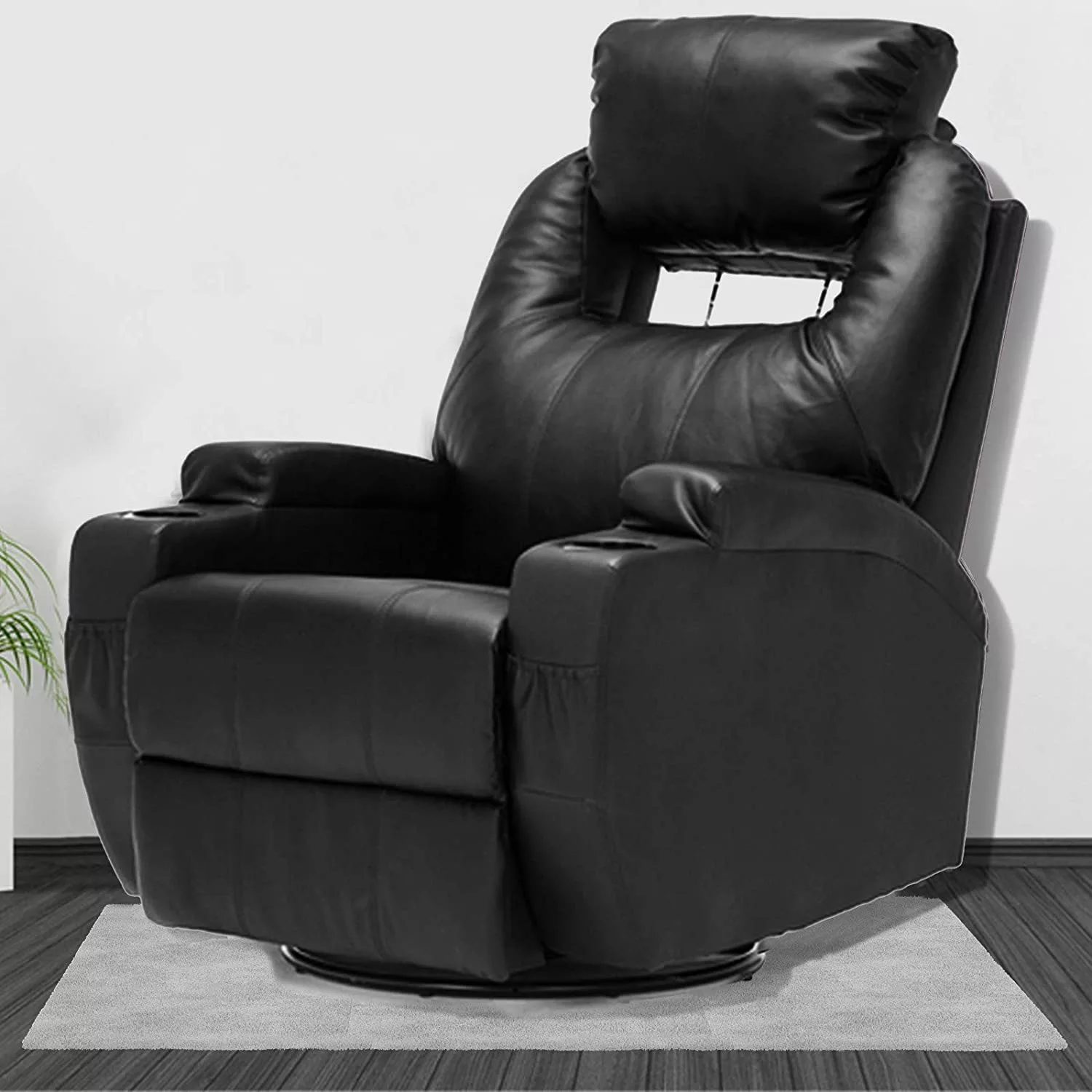 This swivel recliner is among the best on the list in terms of features.
Along with features like 360 degrees swivel, 135-degree recliner, adjustable headrest and pillow, padded armrests, and high back, it provides you with 8 point massage system and heating system to let your body enjoy comfort at an extreme level.
You don't just provide comfort to your baby but provide comfort to yourself and feel relaxed while even nursing.
Along with that, this recliner reclines and glides smoothly without being too noisy, which lets your baby sleep comfortably.
Along with these features, there are other plus points of having this swivel recliner chair, like cup holders and pouches on the side of the seat to put your things.
Specifications
Product dimension: 37.0″ x 34.5″ x 42.3″ inches
Weight Capacity: 300 lbs
6. Pulaski Sutton Swivel Glider Recliner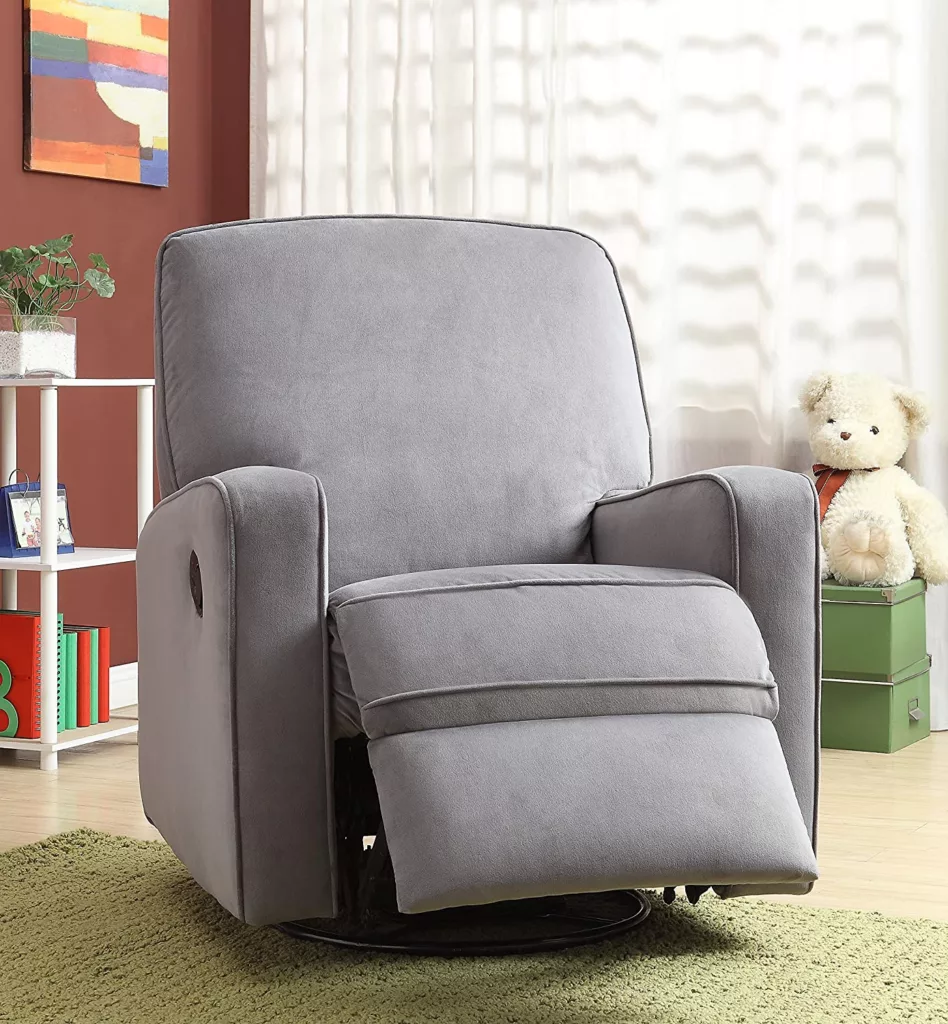 As the other features of the recliner are very important, so is its width. This recliner has dimensions 36 x 39.5 x 31.5 inches. Which makes it relatively wider than many recliners out there on the market.
The soft microfiber and padded back and arms make it very comfortable for the moms and an excellent choice for the Nursery.
The recliner design is very elegant which gives a great look to the room.
It is not just super easy to assemble but very easy to clean.
Moreover, the recliner can be adjusted in two different positions, one for watching TV and the other for full reclining. It is up to the user to set it according to their own desires.
Specifications
Product dimensions: 36 x 39.5 x 31.5 inches
Product Weight: 77.2 pounds
Weight Capacity: 250 lbs.
7. Baby Relax Mikayla Swivel Gliding Recliner, Gray Microfiber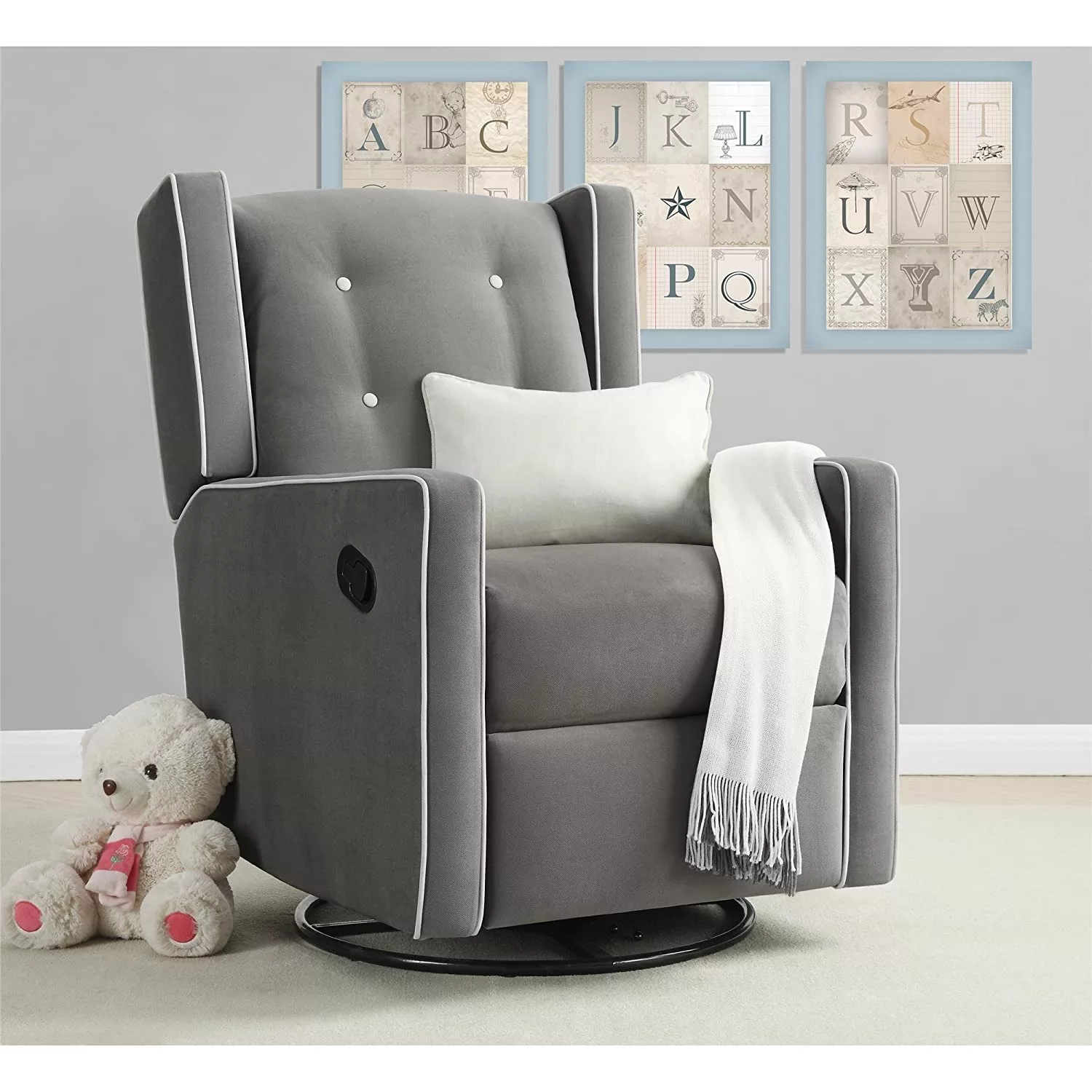 This swivel recliner is a good choice for the nursery and living room because of its good features and quality.
It provides great comfort because it uses soft microfibers and is constructed according to the track arm design.
Meanwhile, the recliner is not overly stuffed nor too thin. That provides convenience to the parents or any other user to get in or out easily.
The ball-bearing mechanism makes it smooth to recline or glide when your baby is sleeping. Along with many other features, it supports a weight of up to 225 lbs. Easily, which is enough for most people.
Moreover, the assembly is easier because, like most good recliner chairs, it comes in two parts. So, it doesn't require any mastery to assemble them.
Specifications
Product Dimensions: 37 x 30 x 41.8 inches
Product Weight: 89 pounds
Weight Capacity: 225 pounds
8. Naomi Home Odelia Swivel Gliding Rocker Recliner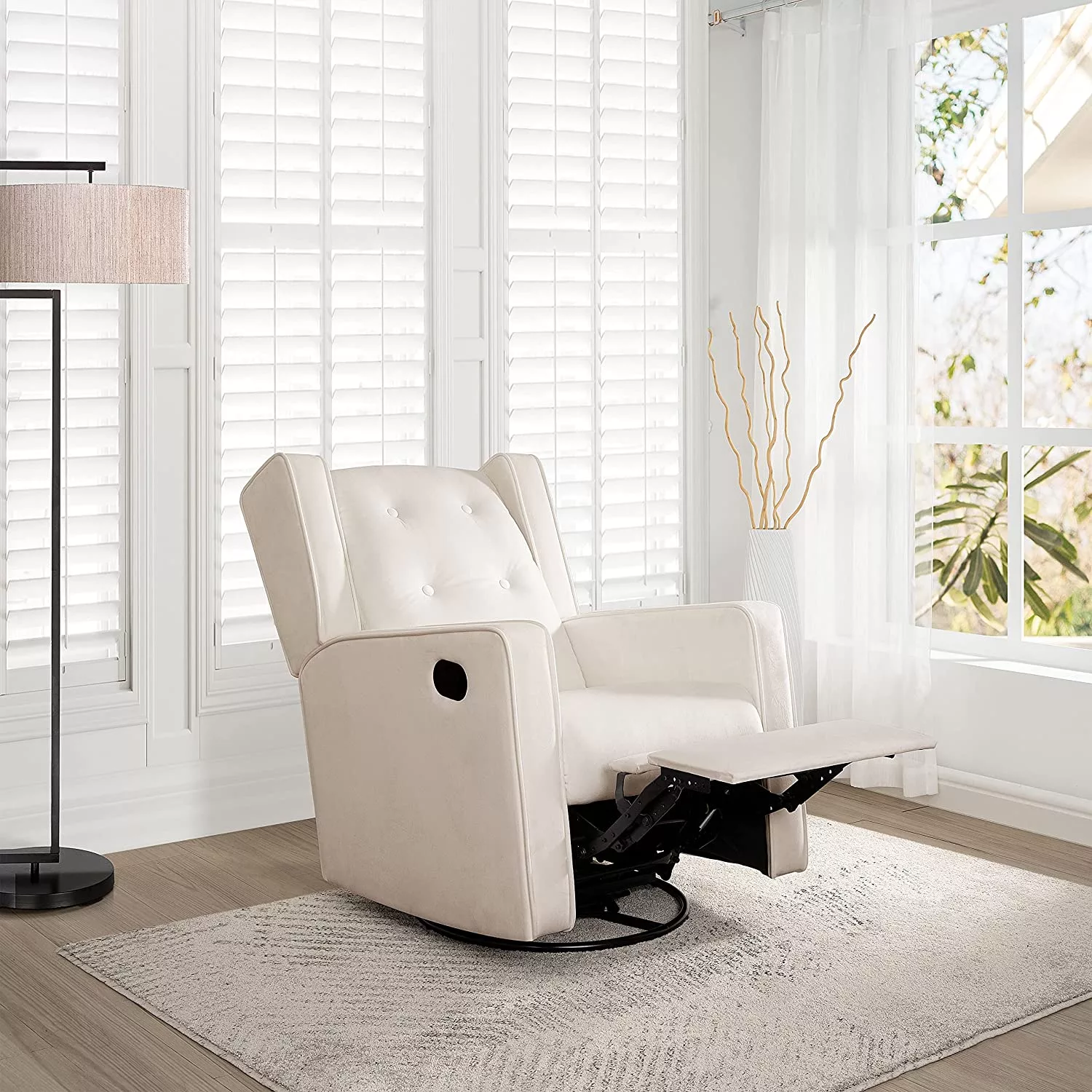 Product Description
The Odelia swivel recliner is 3rd item on our list of best swivel recliner chairs and is made of microfibers that make it super comfy. Meanwhile, the button tufting design on the backrest gives it a delicate look.
It swivels 360 degrees with smoothness and reclines up to 135 degrees to provide unmatched comfort to the customers.
Meanwhile, the gliding rocker makes it perfect and helps to provide your baby with great comfort.
For the parents who would be nursing the kid, the adjustable footrest makes it completely relaxing and enjoyable. Because you don't have to worry about the legs hanging around while the baby is in your lap.
There is a lever to adjust the reclining position for convenience. Plus the product dimensions of 37″ D x 30″ W x 41.80 H are good for all.
The company accepts returns within 30 days of the purchase. So, in case of damage while delivery, you can ask for replacement or return.
Specifications
Product Dimensions: 37″ D x 30″ W x 41.80 H
9. Flash Furniture Contemporary Black Leather Recliner and Ottoman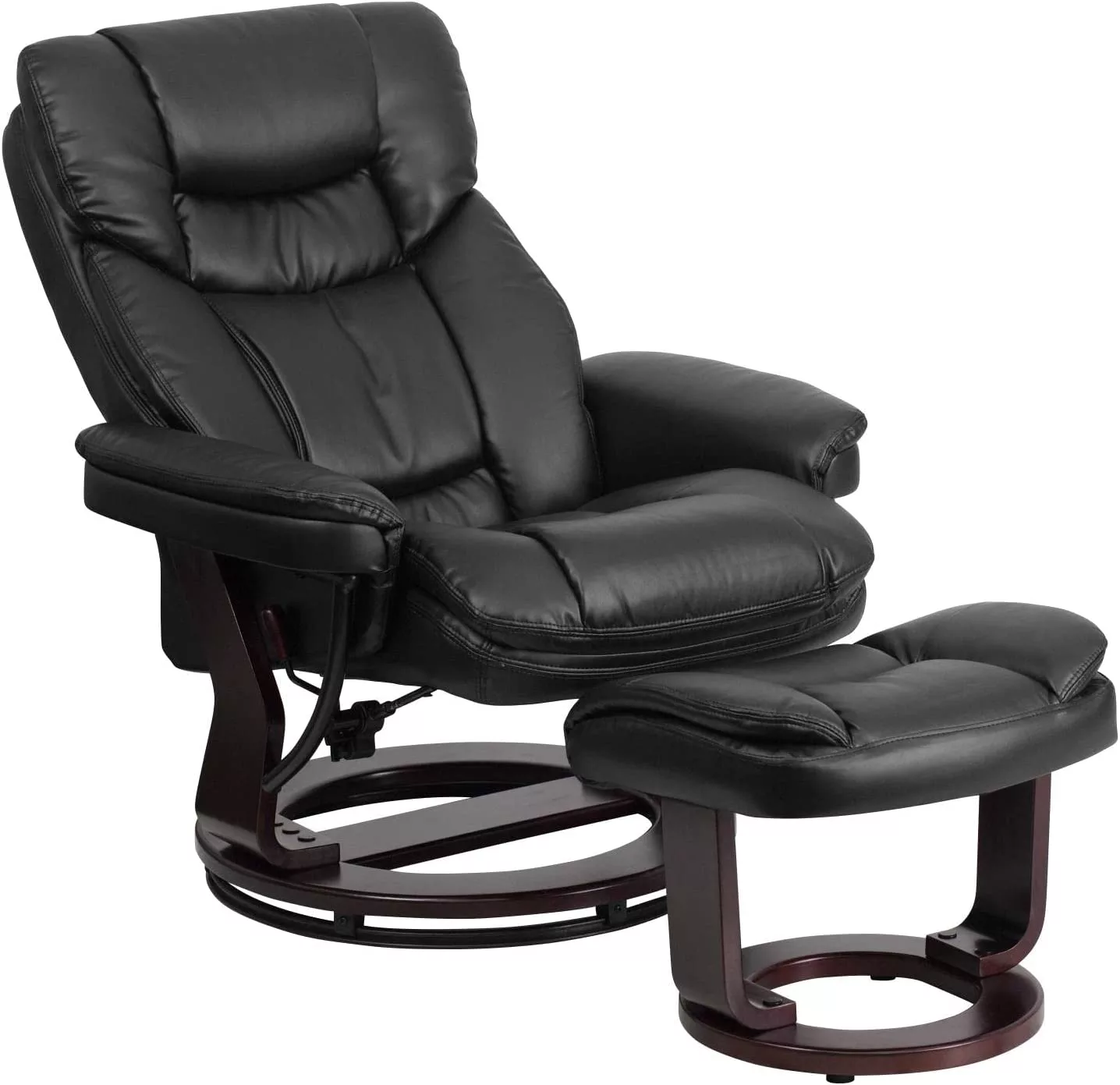 Product Description
This black leather recline comes with a chair and an ottoman set.
The ottoman doesn't make it bad, but for customers who have height problems and are always worried about the adjustment of the footrest, this one is a perfect solution.
For instance, you can place the ottoman according to your feasibility and enjoy your time on the chair.
The product dimensions are 32.5 x 39 x 40.2 inches.
So, this is neither too tall nor too short but fits well with almost every size of person.
This chair is good for book reading, living rooms, lounges, and simply relaxing.
But, keep in mind that we wouldn't advise the parents to use this chair for nursing their baby
This is because this one can be uncomfortable for parents.
Specifications
Product Dimensions: 32.5 x 39 x 40.2 inches
Product Weight: 32.9 pounds
10. Monarch Specialties Leather Swivel Recliner – Most Economical Recliner Chair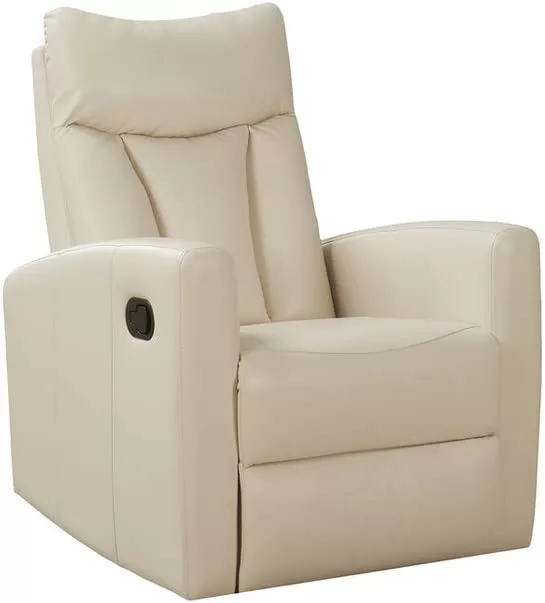 Product Description
This swivel recliner is one of the less pricey items on the list but with good features, that not only justify the price but provide extra value.
Most of all, Its leather material and elegant design give it an awesome look.
With the dimensions of 36 x 29 x 40 inches, it is not just of good height but the width and length are also fine.
For customers who are looking for all the features like reclining, gliding, and swivel, but are not interested in too stuffed and bulky chairs, this one is the best choice.
Moreover, this swivel glider recliner is good for not only relaxing or for the living room but also for nursing the baby.
Other than that, the company also provides you with better customer service.
Specifications
Product Dimensions: 36 x 29 x 40 inches
Product Weight: 88 pounds
Weight Capacity: 240 pounds
Concluding Thoughts
Among all these best swivel recliner chairs, there are 3 recommendations that are best rated. Not just that, these 3 have their unique features and are exactly what you would love.
Meanwhile, do check out our list of best tandem bikes for sale and real cars for kids and give your valuable suggestion.