This a complete buying guide for tandem bikes for sale, hence contains all the information that you need to make an informed decision.
Although most of us usually ride a solo or single-rider bicycle and know that it, for sure, is a rewarding experience. What some of us have not experienced is riding a tandem bike.
If you enjoy solo rides, tandem bikes can take your riding experience to a whole new level. These bikes are the best option when you have a partner with you who is also as passionate about cycling as you are. You get to share your passions, make effort together, and learn the importance and worth of combined efforts against solo. Moreover, tandem bikes give you a great opportunity to get close to each other and strengthen your bond.
If you have someone like that, then what are you waiting for? scroll down right now and pick the tandem that suits you best.
before saying anything about the tandems, let's answer something first!
What is a tandem bike?
Well, the most simple answer to this question is "A tandem bike is a two-seater bike where the front rider steers the bike while both of them pedal to move the bike".
That means a combined effort towards your daily milestone as one. And who knows what other amazing things you might discover about each other.
Tandem bikes are more fun than solo bikes
Tandem bikes are more fun than solo bikes
Why? because tandem bikes are more stable and faster while giving you the opportunity to ride along with your partner, your kid, or your friend on the same frame. There are no worries about being left behind or leaving behind. Meanwhile, this is an opportunity of synchronizing yourself with the other person, communicate easily, and have an experience that is unforgettable.
Though tandems are fun, but finding a reliable manufacturer in the market is always trouble. You can find for sale tandem bikes made from steel to ones made from carbon at a variety of prices. So, spending money without prior knowledge is not always a good strategy.
To solve this frantic problem, I have prepared a list of the 6 best tandem bikes for sale that will surely end your hunt for the tandem bike. Furthermore, the information provided here will guide you to make an informed decision.
Now without any further due, let's look at these for sale tandem bikes in a bit of detail and decide which one is most suitable for you.
6 of the best tandem bikes for sale
1. Schwinn Twinn Tandem Bicycle – Best tandem bike for sale on the list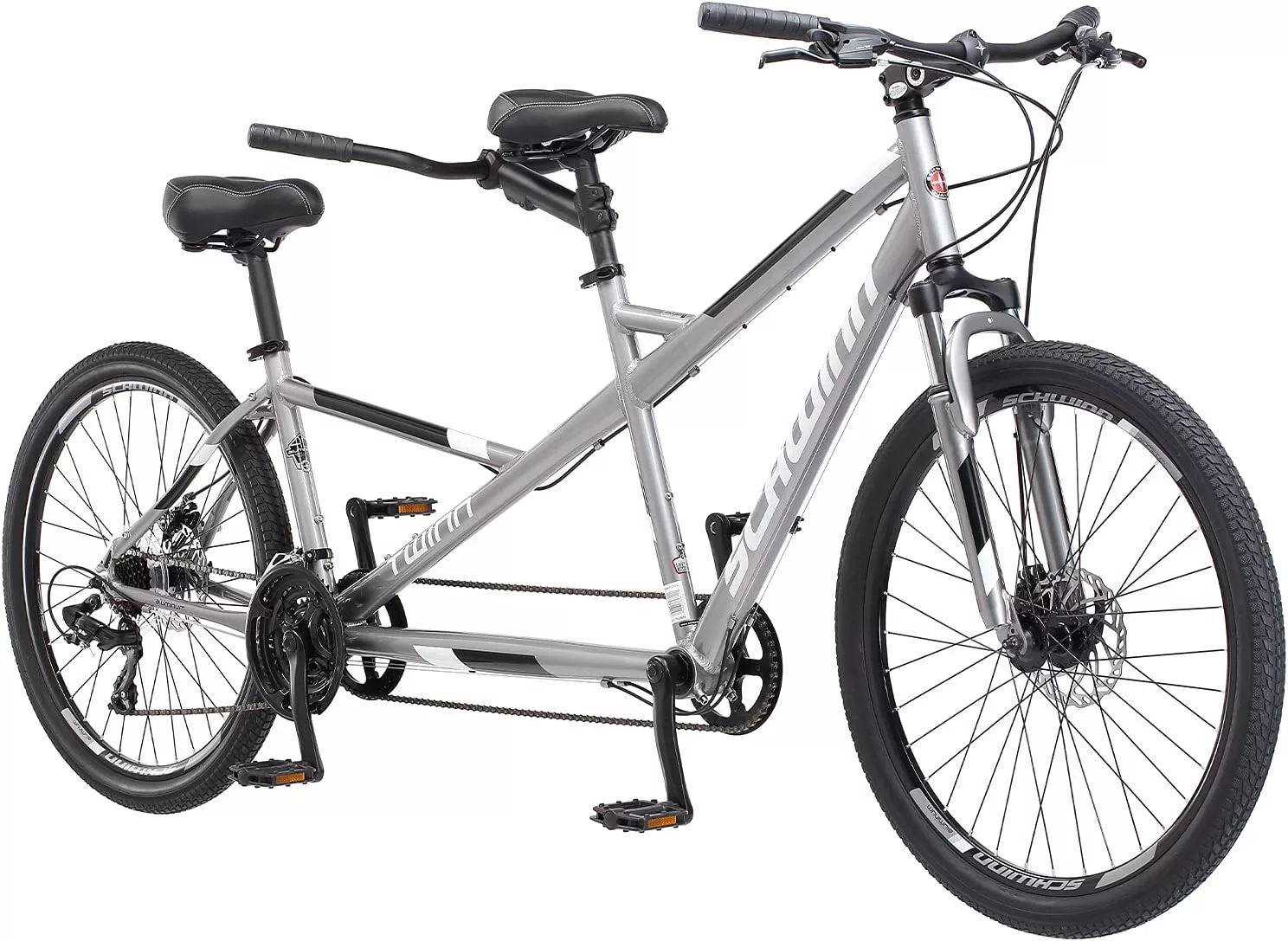 One of the most amazing and reliable tandem bikes for sale in 2019 within a value-price range is a Schwinn Twinn tandem bike.
Best suited for casual rides, this tandem bike is a great choice for riding with your partner or child.
The aluminum frame of this tandem bicycle makes it more sturdy, thereby, making it preferable for most users.
This bike comes with an extra low step-thru rear bar that makes it perfectly suitable for all riders whether they are children or adults.
So, the worry of leaving your child behind is now gone because of this.
The 21- speed EZ-fire Shimano trigger shifters along with the Shimano rear derailleur provide the riders with an extensive range of gears with easy gear shifting while riding.
This vast gear range enables both riders to ride easily on any type of terrain.
The Schwinn Twinn tandem bike also features mechanical disc brakes. These brakes provide riders with ultimate stopping power and complete control in any alarming situation.
The same goes for the Schwinn suspension fork, which is very sturdy and reliable, keeping riders in control of everything.
In the meantime, both of the handlebars have ergonomic grips along with the plush fitness seats. These two keep the riders very comfortable while creating a more enjoyable riding experience.
Important Suggestion!
if you are a professional rider and ride on tracks, the fork is a bit heavier for you which can make fast turns a bit difficult.
On the other hand, if you are buying it for casual use, the fork is absolutely fine for that and you have nothing to worry about.
Product Specifications
Weight: 47 pounds
Wheels measure: 26 inches
Frame: 20" front frame and 16" rear frame stoker
Material: High-end Aluminum
2. Giordano Duetto Tandem Road Bike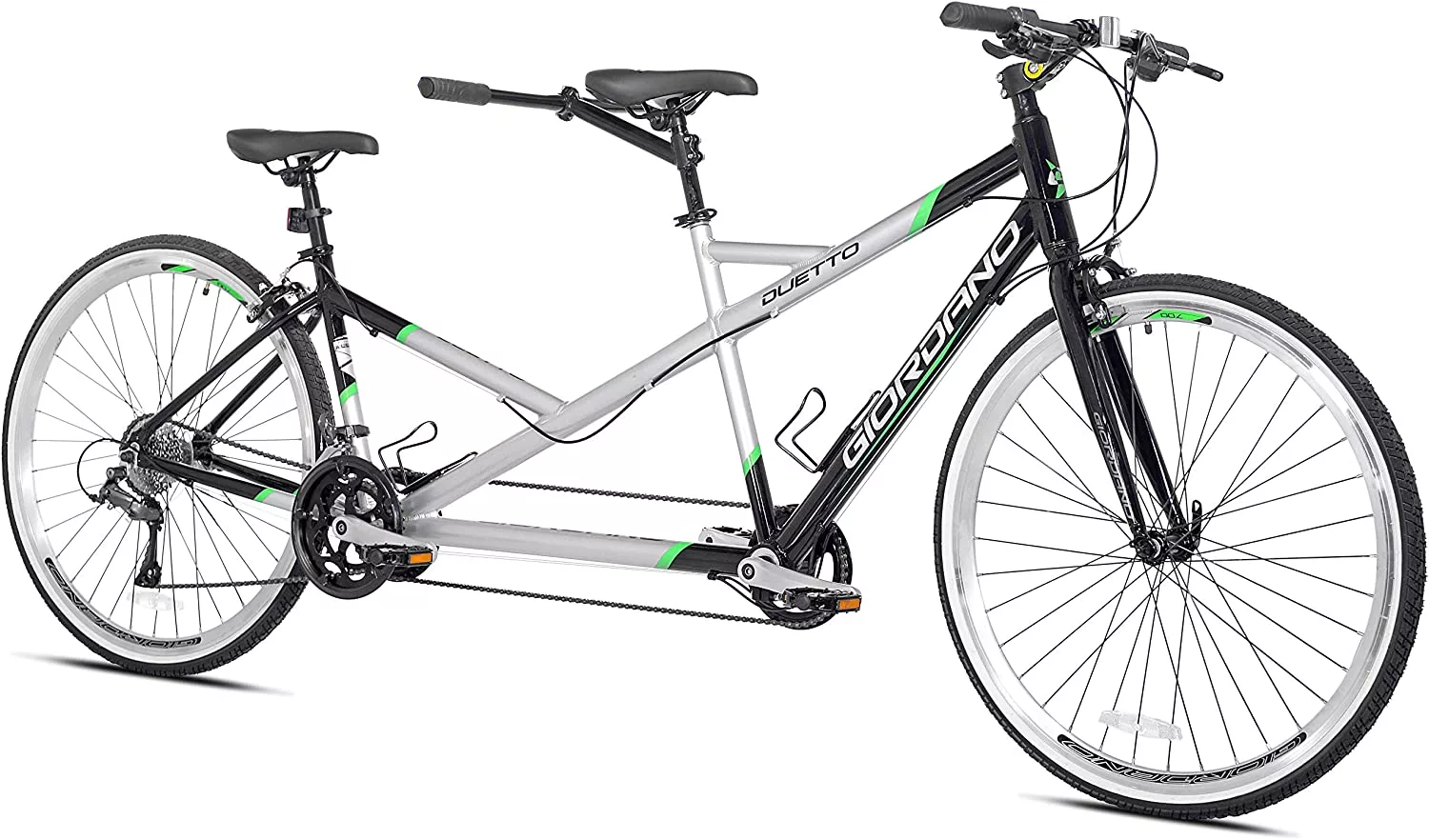 No. 2 on our list of best tandem bikes for sale is the Giordano Duetto Tandem road bike. This tandem bike is made for all riders, whether beginners or advanced.
Starting from the custom-designed frame that is made from 6061 aluminum (not the best frame material in my opinion but not bad either ) and a bigger size than average, it is perfect for taller individuals who have problems with normal tandems.
Moreover, it is light weight, fast, and smooth, staying true to its core purpose as a road bike.
In Addition to that, the Giordano tandem bike features Shimano 16-speed Altus drivetrain to make the riding experience better.
Suggestions for modifications!
If you want to get the most out of this tandem bike, there are two modifications that i would recommend. The first one is the seat width as it might not be very comfortable for everyone. Secondly, the tire width. Since the bike comes with 29-inches wheels, using wider tires takes the whole experience to the next level.
However, both of these changes highly depend upon your personal preferences and requirements. If you and your partner are comfotable with what comes by default, there's nothing better than that.
Specifications
Package Dimensions: 80 x 33 x 8 inches
Weight: 53.8 Pounds
Frame Material: 6061 Aluminum
3. KENT Northwoods Dual Drive Tandem Bike for sale – Green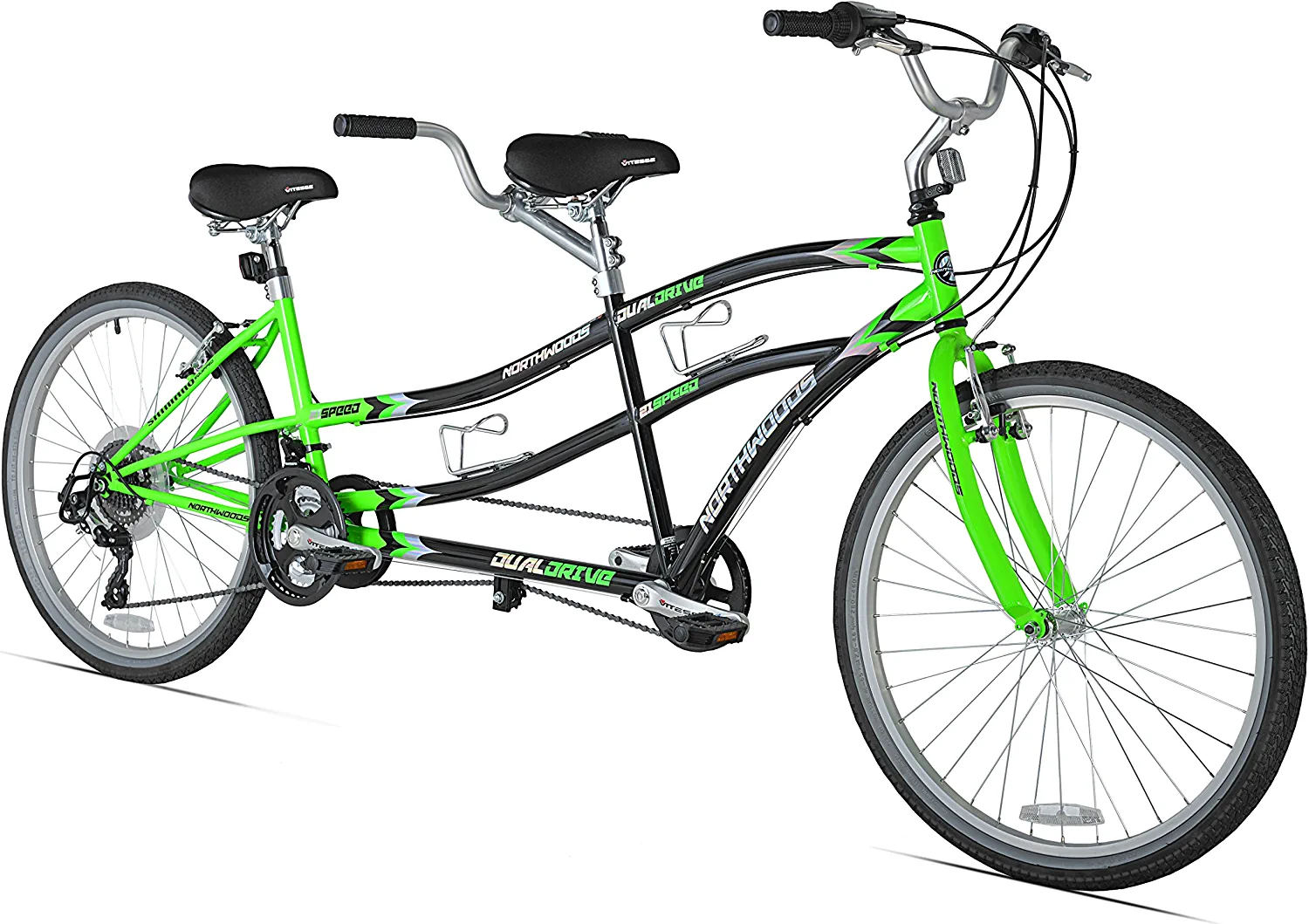 Northwoods dual drive tandem bike is a hybrid, perfectly suitable for casual rides in the city or on plain terrain, and certainly deserves the third spot on our list of best tandem bikes for sale.
The best part of buying this tandem bike is that it gives you the thrill of the tandem bike while staying at a much more affordable price level.
North-woods dual drive tandem bike comes with a reliable and good quality cruiser style frame that also gives an amazing look.
The tires of this bicycle are 2.1 inches wider, making it better than normal tires.
Also, the 29-inch front frame and 20-inch rear frame are suitable for almost every height and provide proper space for everyone.
Along with that, the alloy linear pull V brakes have been provided in this bike. These brakes are not the best but certainly are a better option in such low-price items.
These for sale dual drive tandem bikes are perfect for cost-conscious people or for the ones who are in their very beginning stage of introduction with tandems. Meanwhile, there are some modifications that can be made to these tandem bikes to make them more reliable and get the most out of them.
Modifications to make this for-sale tandem bike better!
1. Wheels: replace them if you find that these are not most suitable ones for you because they are of average quality.

2. Fork is heavier, so beware of making any fast turns and lubricate it properly, or better, change it with the one that is better.

3. Replace captain's pedal and stoker's saddle
Specifications
Bike weight: 65.8 pounds
Wheel size: 26 inches
Frame Size: 29 Inch front frame – 20 Inch rear frame
4. Kent Dual Drive Tandem Comfort Bike for sale
Tandem comfort bike frame is a hybrid of tandem road bikes and tandem mountain bikes.
Most suitable for recreational riding and introducing yourself to tandem bikes, it certainly is the best value for the price.
Meanwhile, the frame size of 18″ front and 17″ rear, with overall this tandem two-wheels is perfectly suitable for training young riders to get accustomed to the tandem bikes.
Like most of the bikes manufactured by KENT, this one also has a sturdy cruiser-style frame made of solid material.
Similarly, the tires have been kept wider than normal tires for better road grip and rider comfort.
Suggestions for buying this bike!
Properly lubricate the bike parts, especially the chain, while assembling. That would decrease the chances of any initial problems during first ride.

Saddles get worn out after some time of usage, so do replace them with some good ones too. Otherwise, it is a good recreational and intro bike for a low price tandem.
The linear pull V brakes made of alloy are also a good addition to this bike for better control and are reliable enough to be well-trusted.
Specifications
Bike Dimensions: 77.5 x 8.2 x 26 inches
Bike Weight: 65.5 pounds
Tire size: 26 inches
5. Pacific Dualie Tandem Bicycle for Sale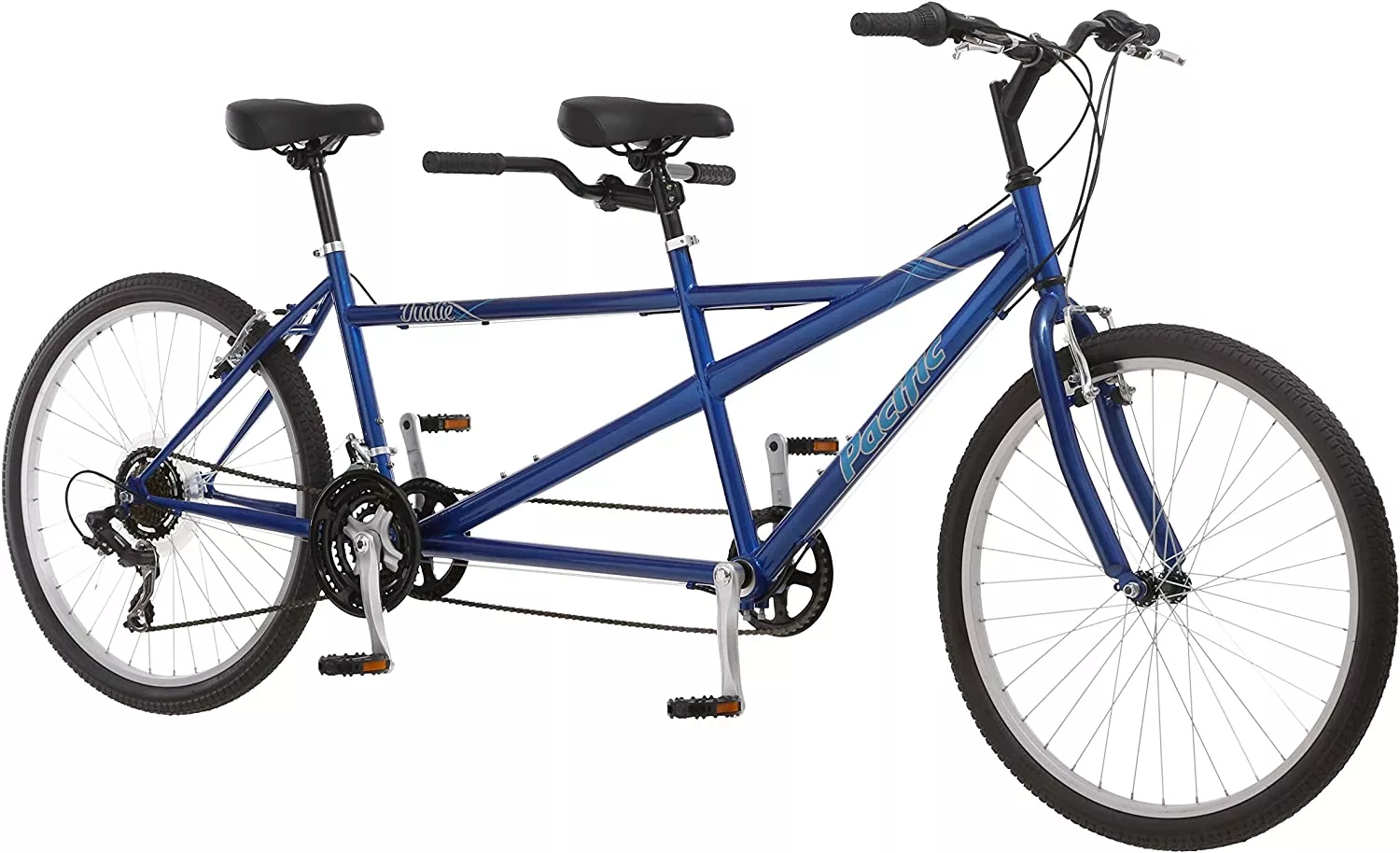 For individuals who have no experience in riding tandem and are going to buy it for the first time to try whether it works for them or not. This Pacific Dualie tandem bicycle is the perfect option.
Also, you can use it to train yourself and your riding partner, before buying an expensive two-riders bicycle.
It is a road bike with average weight, fine features, and the cheapest price.
Instead of buying a $2000-$3000 tandem, you can check this bicycle out and see your compatibility with the tandem.
The steel material of the bicycle frame makes it reliable enough to try out for some time or simply use for around-the-block rides. Hence a good option for new tandem riders.
In addition to that, some other parts that are featured in this bike include the Alloy wheel, linear-pull brakes, and crank- making it lightweight with a wide gear range.
This bike also has a Shimano 21-speed derailleur along with a 21-speed twist shifter that allows gear changing option while riding.
For the price that is being offered, it, for sure, is the best tandem bike in its price range.
Any modifications to this bicycle?
In the first place, i would not recommend any modifications. This bike is not worth going too deep for replacements and modifications. But still, if you like going for long rides, do change the saddles and the tires. everything else is good enough to try out the two-seater riding experience.

Apart from that, hopefully, you wont have to replace anything for normal rides.
Specifications
Bike weight: 59 pounds
Size: 26″ tandem cycle
6. KENT Northwoods Dual Drive tandem bike for sale -RED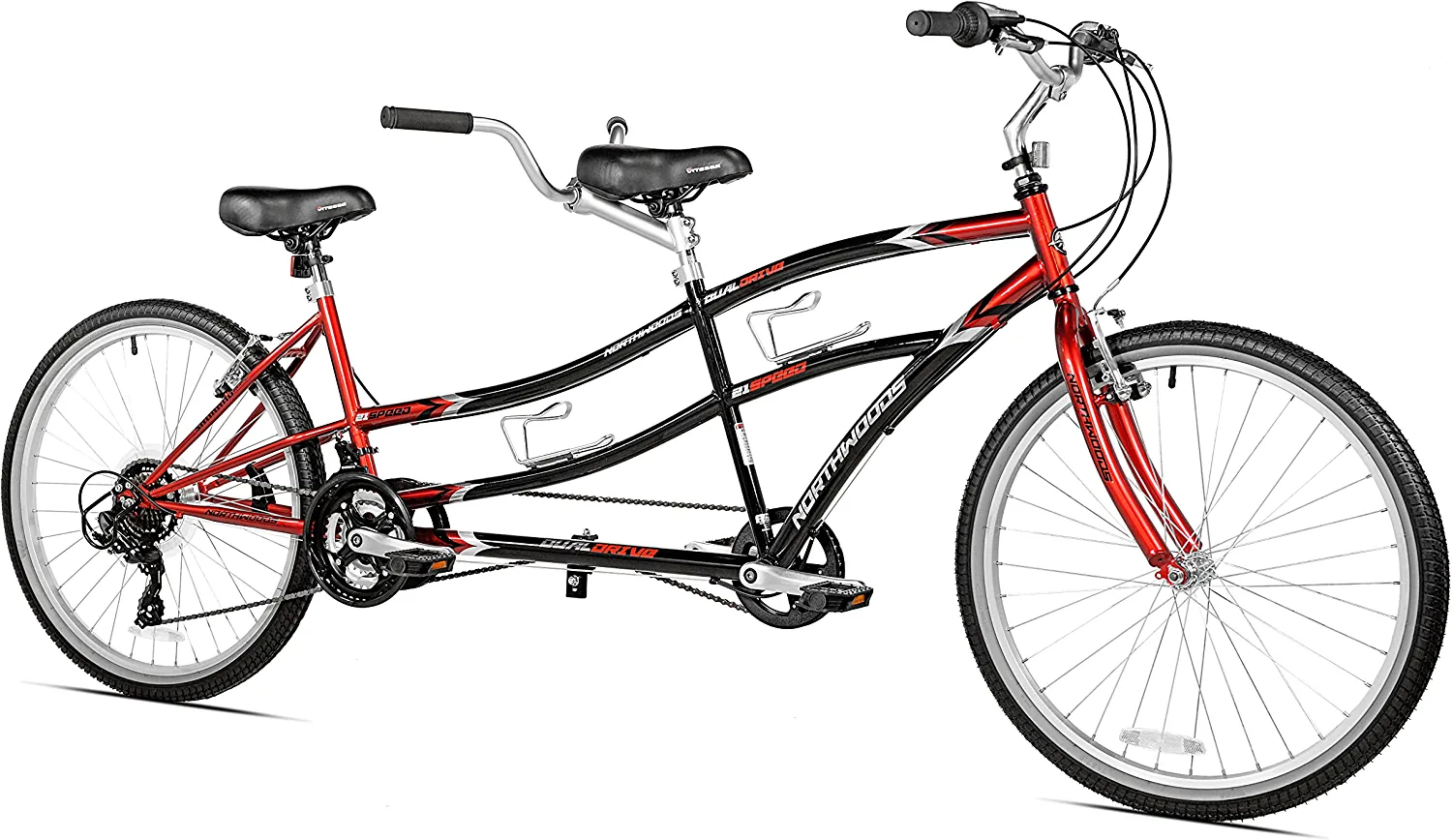 Kent North-woods dual drive- RED is a very low-priced version of Dual-drive green.
Most of the features are not just similar but exactly the same in these Models.
Dual drive red features the same cruiser-style frame made of durable steel along with Revo shifters and 21 speed Shimano tourney drive train.
In contrast, the width of the tires and the bike color is kept different to make it a little bit cheaper. North-woods green has 2.1 inches wider tires while this model has 1.95 inches wider tires respectively.
Other things like the spring gel saddles and linear pull V brakes are the same too.
Compared to north-woods green buying this model gives you the benefit of enjoying the same benefit, but at a much lower price.
Also, for those who think they should try tandem bikes but do not want to risk their money, this is the best tandem at the lowest price they can possibly get.
Specifications
Frame Size: 29-inch front – 20 inches rear
Weight: 55.5 pounds
Bike Dimensions: 95 x 25 x 39 inches
Tire width: 1.95 inches
Tire size: Standard 26″
Tandem Bike Accessories – Most Suitable tandem bike accessories for sale
Kazam Co-Pilot Bike Trailer for solo and tandem bikes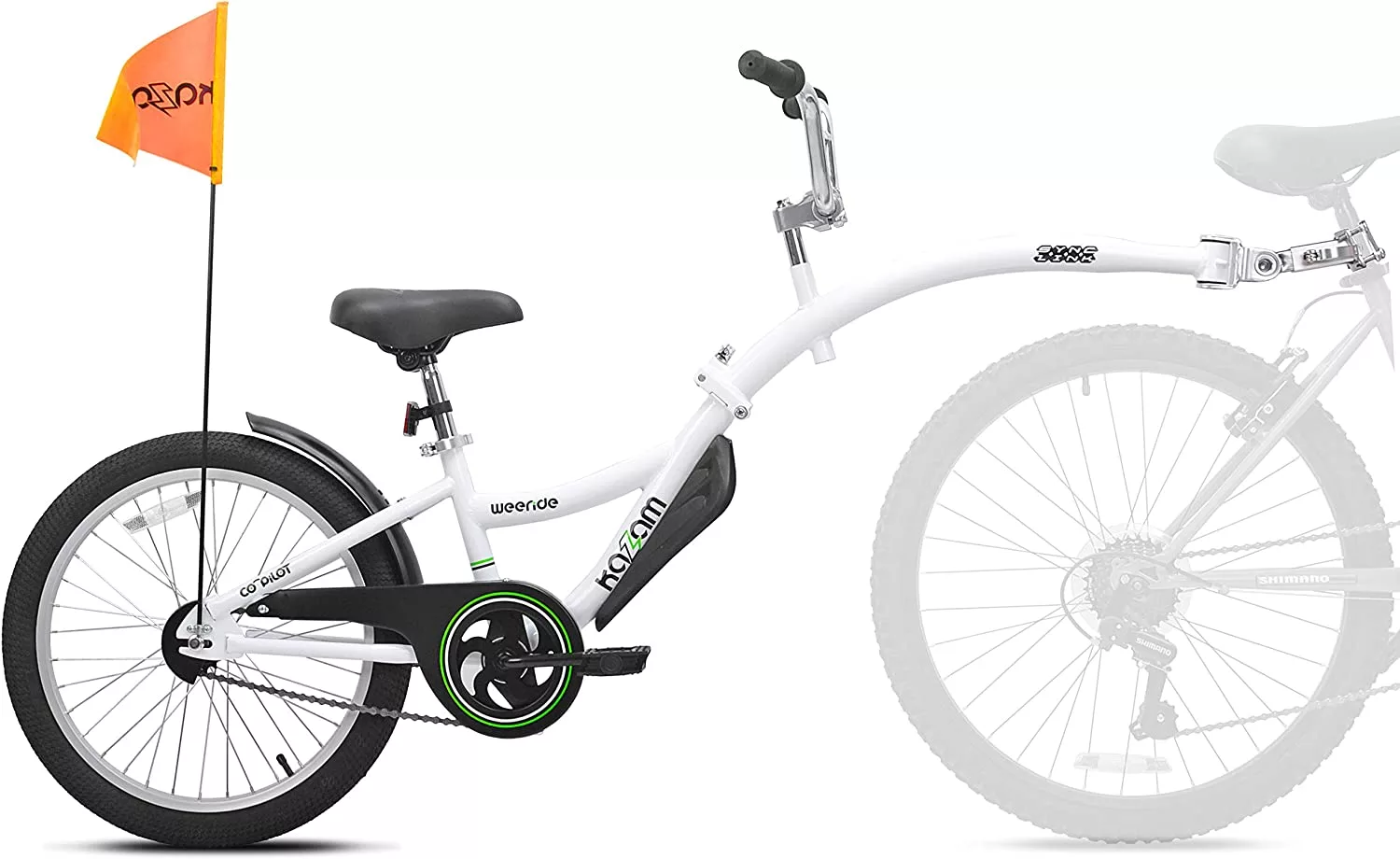 For people who have young riders in the family and want to ride together, this WeeRide Co-Pilot bike trailer is a perfect option. This is a very sturdy and low-priced trailer for tandem bikes.
You can attach it easily with almost every bike's seat post and let your kid be a part of your journey. Moreover, this co-pilot trailer has all the features of a regular kids' bike such as pedals, seat, handlebar, and safety flag. So, your young rider will feel useful and will be able to help you along the journey while learning and enjoying.
This bike trailer is suitable for kids from 4 to 9 years of age. Also, it can hold weights up to 75 lbs very easily.
Another advantage is that you can easily arm fold this co-pilot trailer and store it away when it's not needed.
IKURAM 3 Bike Rack Hitch Mount Double Foldable Rack for vehicles with a 2″ Hitch Receiver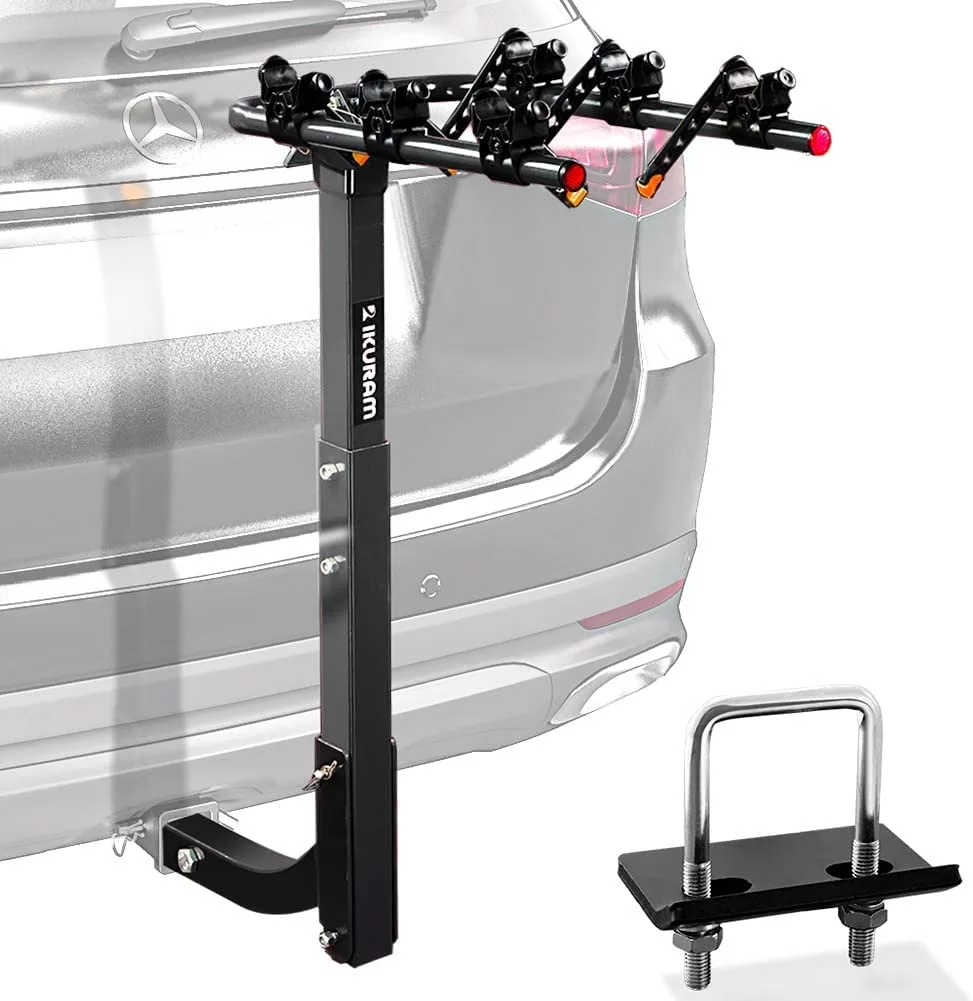 A bike carrier rack is a necessity when you move around often for road trips and love biking wherever you are. When it comes to that, there is no better choice than IKURAM bike racks to carry your bike around.
This rack can hold 3 bikes at the same time with a 2-inch hitch receiver. However, there are other bike carrier racks for holding 2 and 4 bikes at the same time. So, it all depends upon your current and future needs.
All these bike racks are made of high-quality steel and have a protective powder finish on them. Moreover, there is enough space to hold a variety of bike frames such as road bikes and tandem bikes.
There is a tilt town feature in this rack that makes it easier to approach the rear of the vehicle. Along with that, this carrier rack also features a fold-down arms design. Due to that, you can fold the rack easily and move or store it away for later use.
Another great thing you are going to get with this bike is a lifetime warranty and professional consulting service backed by IKURAM.
Waterfly 25L Waterproof Bike Saddle Bag with Rain Cover for Cycling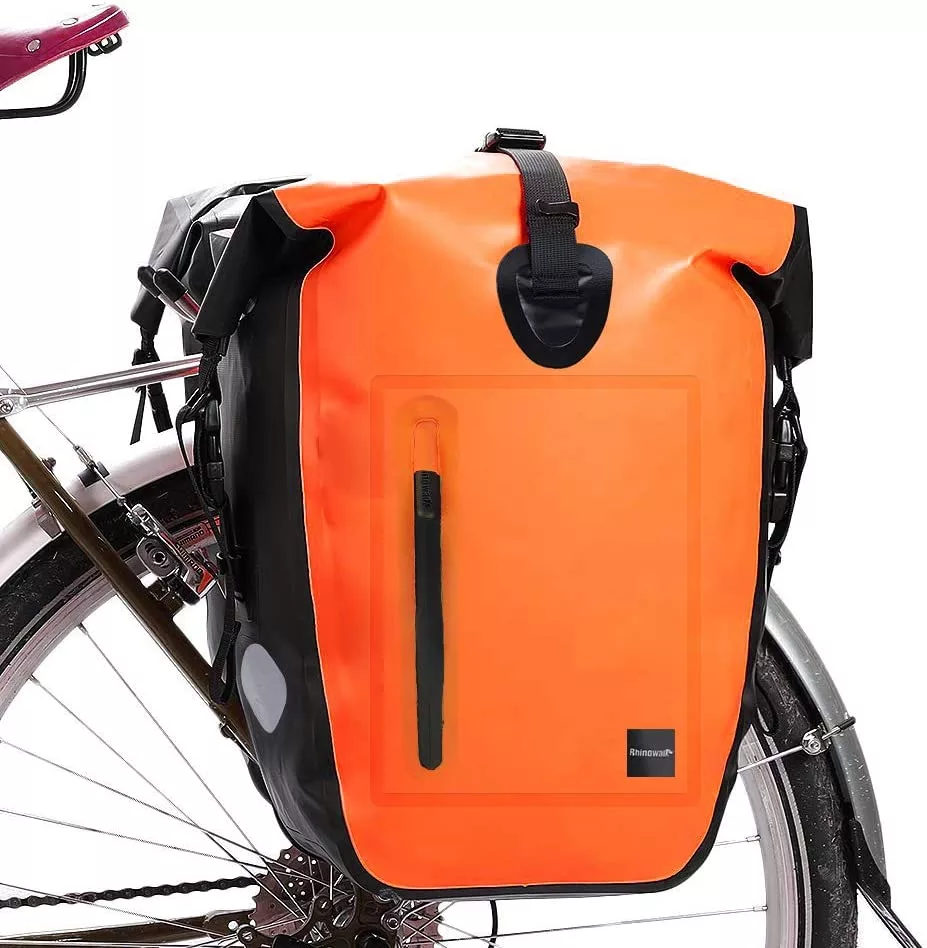 Another very suitable item among our list of tandem bike accessories is this Waterfly 25L waterproof bike saddle bag. If you go on long road trips on your bike often, you obviously require a bag that is not just waterproof but can hold up most of your stuff easily. Moreover, it also looks very great too.
Well, there is nothing to worry about now because you have found what you are looking for.
This bag is made of 1680 D PVC material which is very durable and long-lasting. Meanwhile, this material is completely waterproof. There are 4 different compartments that include one main compartment, two side ones, and a small compartment to hold your accessories and things like wallets.
The total volume of this saddle bag for bikes is 9 L which can be extended up to 25 L, depending on your needs. Meanwhile, there are reflective strips on this bag that make you visible at night and keep you safe in dark.
Along with all that, there is a removable strap option that converts this bag into a shoulder and handbag for multi-purpose usage. This bag is available in 2 different colors; black and orange.
eoGEAR Medium Century Bag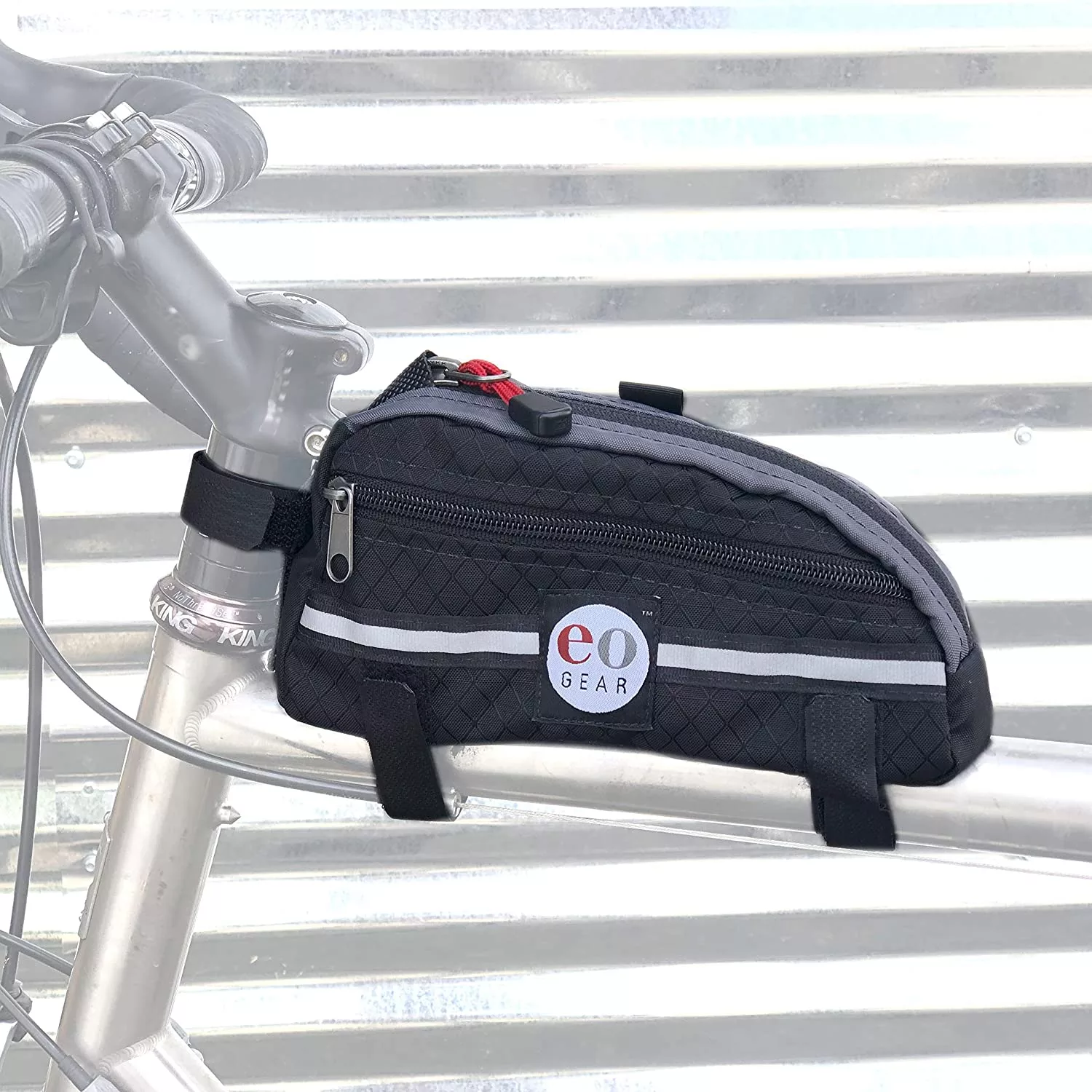 Biking is fun, there is no doubt about that. But sometimes it becomes hectic to paddle with your smartphone, wallet, and accessories in your different pockets. This medium-century bicycle top tube bag is a solution for that.
This bag can hold several accessories including your wallet and phone. The zipper is easy to open. Meanwhile, the bag and zipper are completely waterproof. So, there is no need to fear water with an eo Gear bag.
The quality of materials used is outstanding and the bad is made of super nylon fabric. You can use this bag for tandem bikes and other road bikes.
Some Important Questions!
How long is a tandem bike?
A standard tandem bike is around 2.3-2.5 meters long. That is more than double for a solo-rider bike.
Are tandem bikes faster and more efficient?
Yes! tandem bikes are certainly faster and more efficient than single-rider bikes. On a tandem, the power is doubled while the total weight is far less than two solo bikes along with their riders.
How do tandem bikes work?
Tandem bikes are two-rider bikes. The front rider or the captain is the one responsible for steering the bike while the rear rider/stoker navigates and pedals along with the captain.
How much weight can a tandem bike hold?
A tandem bike is certainly sturdy and can hold a total weight of more than 450 pounds on average. Some models of tandem can hold a weight of around 600 pounds.
Is riding a tandem bike hard?
Riding a tandem bike is hard in the beginning because both of the riders take time to synchronize and get used to steering and navigating.
After the first 30-40 miles, the tandem becomes more easier and fun.
Do You Know?
Also, check out our recommendations for the Best electric tricycles for adults & Best swivel recliner chairs to find out which one suits you the best.

Meanwhile, Do Not Forget to give your suggestions and recommendations for this list of best tandem bikes for sale in 2023 in the comments section below.