Animal testing is gradually being criticized and excluded from many fields around the world, especially in the beauty and skincare industries. That's why consumers care about "whether a brand tests on animals or is cruel." Aveeno is also in this issue.
So, does Aveeno test on animals? Let's study the relevant materials before jumping to conclusions on this matter. We also look at some other issues with this brand, such as whether it's vegan. And we have alternative suggestions for you in case you don't like its product. Scroll down to see the details.
Table of Contents
About Aveeno
Aveeno was founded in 1945 by the Musher brothers, and the bath soap is its first product. In 1999, the brand was acquired by Johnson & Johnson. After that, it continuously expanded its product portfolio. To date, it has hundreds of products for skin and hair care and has a line of products specifically for babies and children.
The brand emphasizes that it focuses on products with natural ingredients. Its products can hydrate and nourish the skin, even for sensitive skin. But does this mean it's cruelty-free and vegan?
Does Aveeno test on animals?
In fact, natural ingredients and cruelty-free have nothing to do with each other. A brand is considered cruelty-free if it meets the following criteria:
The company does not test its products or ingredients on animals
The Suppliers of that company do not test on animals
The company does not pay others to test on animals
Some other indicators that are used in this regard also include:
The company does not sell its products in markets where it is required by law to test on animals such as China
The parent company of that brand is also against animal cruelty and promotes ethical beauty. (Though there are cases where a parent company is not cruelty-free but their brands are certified as cruelty-free).
However, nothing seems to be true in the case of Aveeno.
Take a look at company's animal testing policy: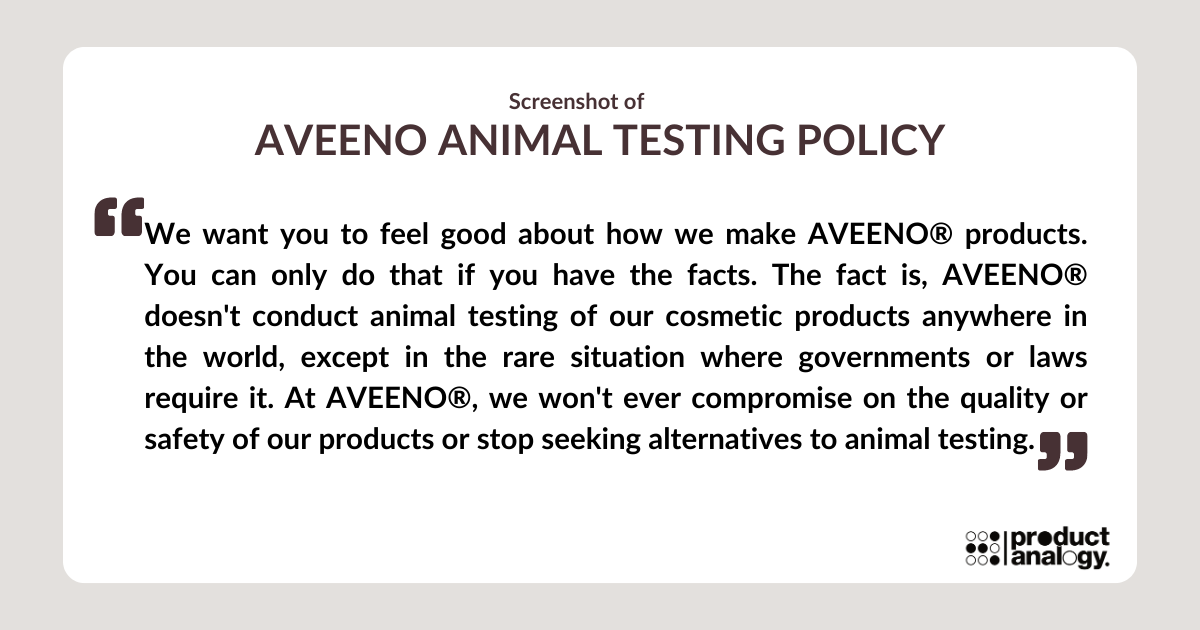 Is Aveeno recognized as cruelty-free?
We tried to find Aveeno's name in cruelty-free lists of organizations like Leaping Bunny, Peta, and Choose Cruelty-Free, and we got the following results:
This is PETA's warning about Aveeno's case. It is not cruelty-free and tests on animals. At the same time, we found no verification from the rest of the organizations that there's any mistake here. This is the most important piece of evidence in our concluding record.
In fact, this brand also declares on its official website that "We want you to feel good about how we make AVEENO® products. You can only do that if you have the facts. The fact is, AVEENO® doesn't conduct animal testing of our cosmetic products anywhere in the world, except in the rare situation where governments or laws require it. At AVEENO®, we won't ever compromise on the quality or safety of our products or stop seeking alternatives to animal testing."
This means it can be tested on animals if required by law. So if we verify that it is sold in a market that requires animal testing, its cruelty problem will become even more obvious.
Is Aveeno sold in the Chinese market?
And here is the answer to our problem. Aveeno is sold in stores in China. You can check out its Chinese website here.
Under Chinese law, animal testing is mandatory for special products imported from abroad. As a result, some companies have built their factories in this country to avoid the requirement of animal testing.
In addition, according to the latest Chinese law published on May 1, 2021, cosmetic companies can sell general products in their market without animal testing if they meet certain requirements. However, that is only the tip of the iceberg. In fact, it is difficult for a cosmetic company to meet these requirements as there are no clear criteria for the checking process.
For these reasons, most cosmetic brands that import their products into China are required to test on animals. Not that it is a surprise, Aveeno also sells to China and resultantly their products are tested on animals.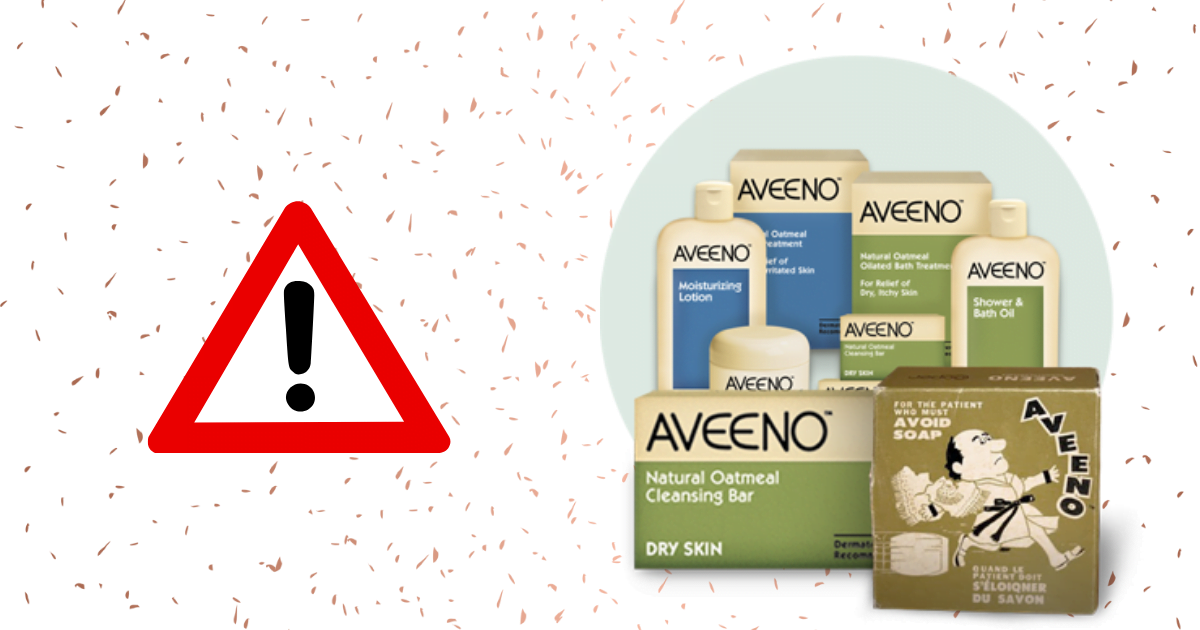 What about Aveeno's parent company?
In 1999, Aveeno officially became a subsidiary of Johnson & Johnson. We did some research, and guess what, PETA has listed Johnson & Johnsas a company that tests on animals. So, it's not a cruelty-free company. You can see that here.
Wrap-up: Aveeno is not cruelty-free!
Finally, we have enough evidence to say that "Aveeno is not cruelty-free and does test on animals". Therefore, it will be on the list of brands to avoid for those who follow the cruelty-free and clean beauty trend.
So what is your opinion on this matter? Will you buy its products? We will leave the decision to you.
Aveeno is not vegan, is this true?
Cruelty-free and vegan are two different things. Aveeno does not tag its products as vegan and has products that contain ingredients like honey, beeswax, and lanolin, which are extracted from animals. That's why we insist that it is not a vegan brand.
However, the brand has vegan lines. If you don't like them, you can refer to some of the better alternatives below.
Cruelty-Free Alternatives to Aveeno
1. Bare Minerals
This is a cruelty-free brand recognized by PETA and 100% of its products are not tested on animals. At the same time, the company also claims to have up to 71% vegan products. We have done our research about the company. You can check out our article on Bare Minerals here.
2. Cocokind
Cocokind is another brand which is believed to be 100% cruelty free and offers a vairety of vegan products. Though the the brand isn't 100% vegan, but it has products specifically for the consumers who want vegan options.
3. Derma E
It's the perfect alternative. Derma E is certified as a 100% cruelty-free and vegan brand. That's why we believe it is suitable for you to replace Aveeno and many other cosmetic and skincare brands.
4. Paula's Choice
Like Derma E, this brand has stated that it doesn't allow animal testing and isn't sold in China. They confirm this on their official website. In addition, it has a parent company Unilever, which tends to change to reduce animal testing (confirmed by PETA).
In the end, we have enough evidence that Aveeno is not cruelty-free and not vegan. We hope this helps you make your next decision. Moreover, we have better suggestions for you, so let's consider their case and make the right choice!