Dove is a brand founded in 1957 in the US by Unilever. It's known for its beauty, skincare, and body care products.
Today, its products are sold in more than 150 countries, and it has become a globally recognized brand. You probably know Dove for its good quality and affordable products. But have you ever questioned whether Dove is cruelty-free or tests on animals?
According to our research, Dove is recognized by PETA as a cruelty-free brand. The company also claims to be the one against animal cruelty and does not test any of its products or ingredients on animals. However, the company sells its products in Mainland China which raises questions because of regulatory requirements in the country. So, is Dove really cruelty-free?
Let's dig deeper to find out.
In This Article
Does Dove test on animals?
To find out if Dove tests on animals or is cruelty-free, we need to clarify a few things.
Dove's official announcement about cruelty-free
In addition, Dove has officially confirmed the cruelty-free issue on its website. They said "Dove does not test on animals. For over 30 years, we've used multiple alternatives, and non-animal approaches to test the safety of our products and ingredients." As a result, this brand claims to have stopped testing on animals in 1987, 30 years after its inception.
Here is a screenshot of the official statement.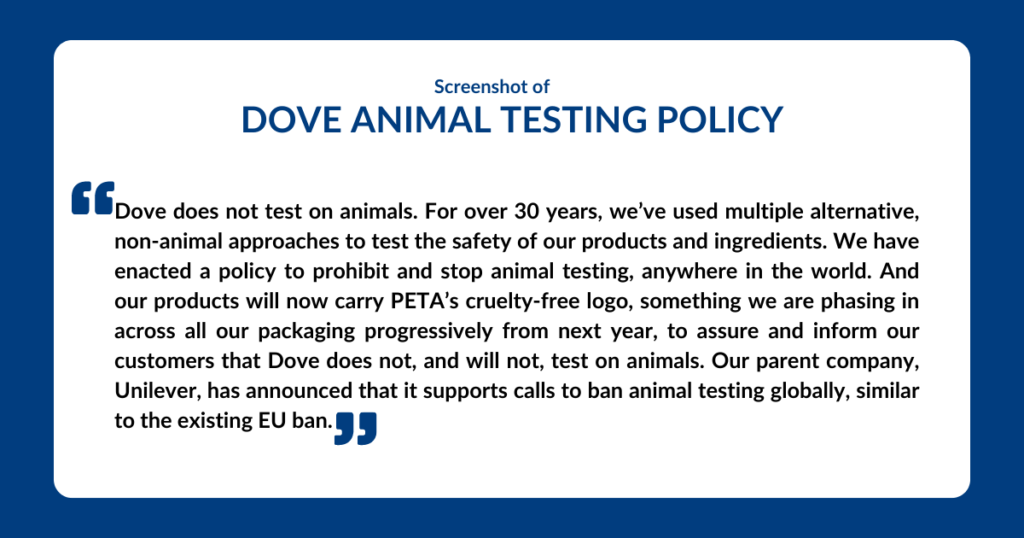 On the official PETA website, Dove has been recognized as a cruelty-free brand. On October 9, 2018, the brand officially earned the "Cruelty-Free Stamp of Approval" and was added to PETA's Beauty Without Bunnies cruelty-free list. Accordingly, it prohibits all animal testing of all its products.
Also, on Dove's website, they mention that "our products will now carry PETA's cruelty-free logo, something we are phasing in across all our packaging progressively from next year, to assure and inform our customers that Dove does not, and will not, test on animals". This means that cruelty-free products can be easily identified through PETA's cruelty-free logo.
in case you are not familiar with PETA's Cruelty-Free logo, here are all the variations for EU and Non-EU companies to help you identify the products.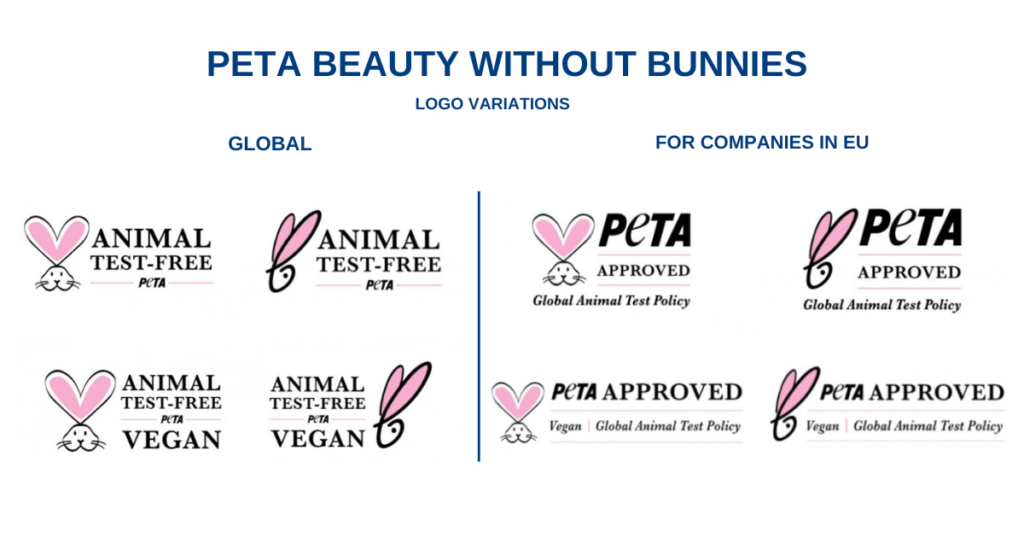 Does Dove sell its products in the Chinese market?
Dove admits that it sells its products to the Chinese market, and this is what many people find confusing.
As a conscious consumer, you probably know that China is on the list of countries that require animal testing for cosmetic and care products. Selling products in this market makes users doubt Dove's cruelty-free claims. So how did Dove react?
How does Dove react to animal testing laws in China?
When asked about selling its products in China, Dove responded on its Twitter page as follows:
"We have changed which products we offer to Chinese consumers. The Chinese Authorities changed regulations in 2014 & now allow for certain cosmetics products that are manufactured in China to not require animal testing, & those are the products that we will be offering."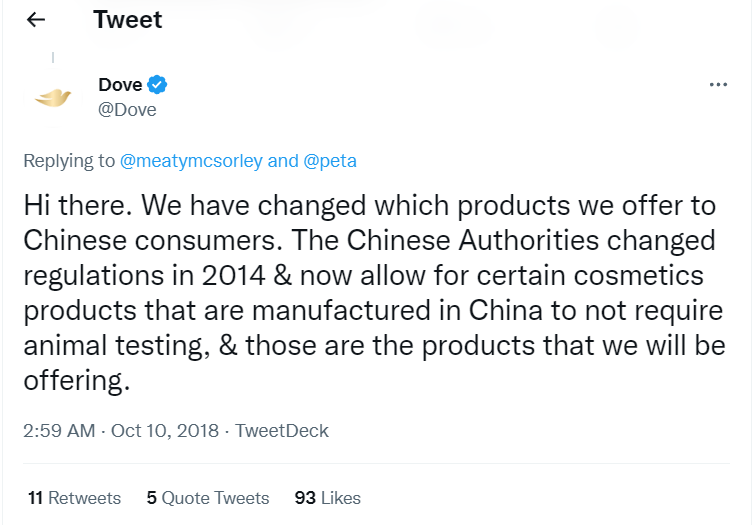 It means Dove insists it sells products in China. But they only export products that don't require animal testing to this market. In addition, Dove makes efforts to limit animal testing according to Chinese laws. Typically, they have started manufacturing some of their products in this market, where domestic products aren't requested for animal testing.
Dove's actions have been praised by consumers, but many other related issues need to be clarified.
For example, China has two sets of laws regarding animal testing. It's the law of animal testing of products pre-market and post-market. In other words, any product sold in this market (whether domestically produced or imported from abroad) is required to comply with post-market animal testing.
Dove was asked about the issue and they responded:
"Post-market testing would only be required in the rare occurrence of a serious consumer safety concern. We have requested to the Chinese Authorities that they notify us if there were such a concern, so we can withdraw the product rather than it be subject to animal testing."
We see Dove's efforts to limit animal testing when selling its products in the Chinese market. But we have yet to find any other responses which indicate whether their request to the Chinese Authorities was approved.
That's why we are unable to give any solid opinion regarding Dove's post-market animal testing in Mainland China.
But it is safe to say that the company is surely making efforts towards animal testing free products and responding to people when questioned. Unlike brands such as Revlon who sell their products in China & stay silent when asked about it.
Is Dove Cruelty-Free?
Dove has been recognized by PETA as a cruelty-free brand and is listed among brands that do not test their products on animals. Moreover, Dove announced on its official website that it stopped testing on animals in the 1980s. Although it is sold in China, it claims to only sell products that do not require animal testing by law.
Considering that, we can say that Dove is not tested on animals and is a cruelty-free brand.
However, if there is any proof that points to otherwise in the future, we will update you.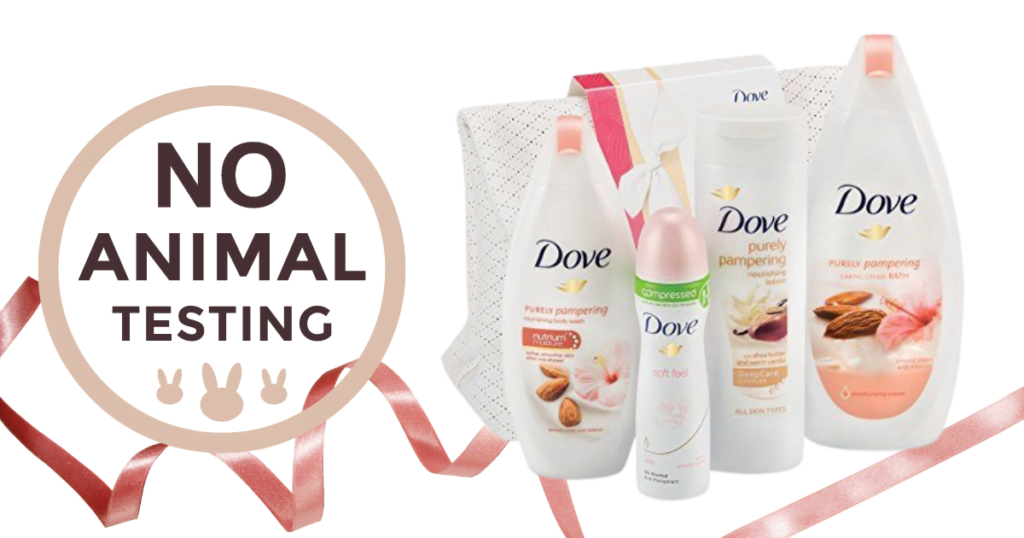 Other frequently asked questions about Dove
Is Dove vegan?
Though you can find some vegan products by Dove in the market, Dove is not completely vegan. It uses animal-based ingredients like gelatin, beeswax, honey, etc in many of its products. So until it completely removes these ingredients from its products, we cannot classify it as a vegan brand.
Is Unilever cruelty-free?
On the official PETA website, Unilever is added to the "Working for Regulatory Change" list. Companies on this list will ban all animal testing of their products. Unilever also states on its website:
"The ingredients in our products must be safe for people and the planet – but we don't need to test on animals to achieve this. We firmly believe that animal testing is not necessary to assure the safety of our types of products (personal care, home care, and foods) or the ingredients in them – for the people who use them, the people who manufacture them, or for the planet."
So now we can believe that this company is cruelty-free. Their actions and statements in the future will determine our change.
So do you have your own opinion on Dove's cruelty-free issue? In our opinion and evidence, this brand is cruelty-free and could be the right choice for you. Visit Dove's website if you'd like to take a look or buy something.
Would you like to explore this in the case of other brands? Check out our other articles now.