As consumers become more conscious about the products they use and the impact they have on the world, the demand for cruelty-free beauty options has skyrocketed. One brand that has long been known for its commitment to producing cruelty-free products is Bare Minerals.
However, despite its clear stance on animal testing, there has been some controversy and misinformation surrounding the brand's cruelty-free status. That leads to many questions such as "is bare minerals cruelty free?".
Therefore, in this blog, we will address the truth behind the brand's cruelty-free claims and the controversies surrounding the brand.
In This Article
What is a Cruelty-Free Brand?
Before we dive into the specifics of Bare Minerals, let's see what it means when we say a brand is cruelty-free.
According to our defined criteria for a brand to be called cruelty free, it must not test its products on animals in any form. That also includes testing ingredients through suppliers or paying 3rd parties to conduct testing, or even selling in markets where it is required by law to test products on animals.
Is bareMinerals Cruelty-Free?
Now, let's talk about Bare Minerals and its cruelty-free status.
bareMinerals' Animal Testing Policy
On the official Bare Minerals website, they talk a lot about cruelty-free. We will refer back to their statements. The first statement can be found on the website page. It says "What sets our clean skincare and makeup apart is that it's tested, proven to perform, and actually improves your skin. We're also 100% cruelty-free — always have been, always will be."
Also, when you dig a little deeper or head to FAQs, the company states the following: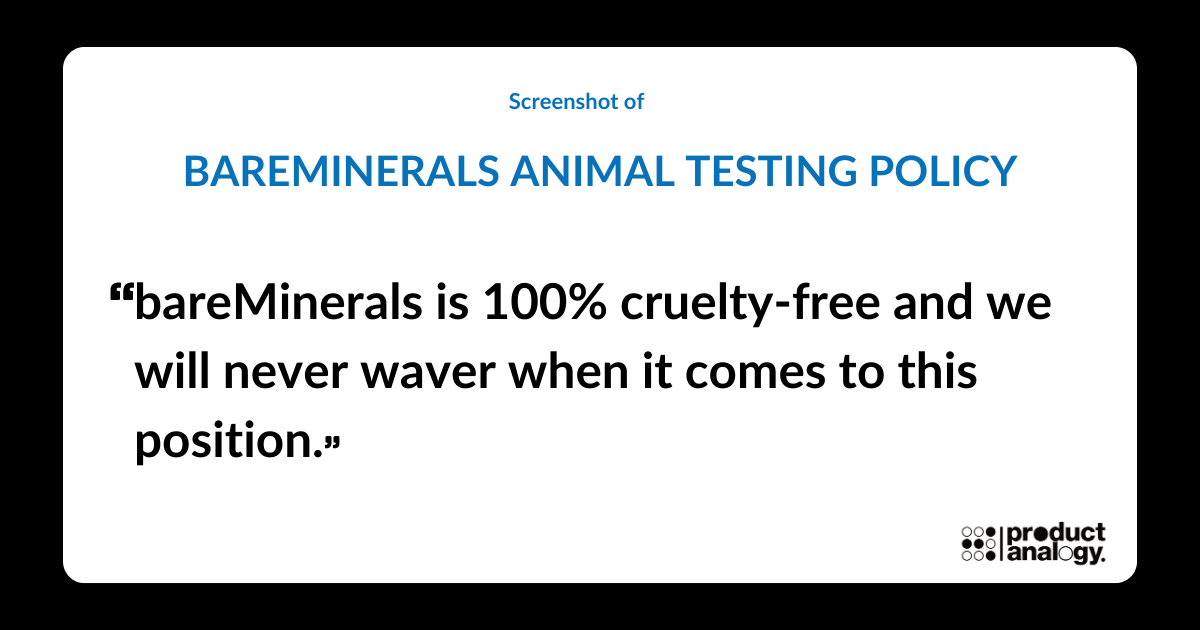 On another point when asked about animal testing, the bareMinerals states the following:
Everything is public on this brand's website. It's considered the second evidence to help us have more faith in Bare Minerals.
bareMinerals is PETA Certified
There are three organizations that give certifications to cruelty-free brands: PETA, Choose Cruelty-Free, and Leaping Bunny. After doing some research, we learned that Bare Minerals has been recognized as a cruelty-free brand by PETA. Specifically, on the official website of this organization, it states that "This company does NOT test on animals".
At the same time, the brand is a PETA Business Friend and is on PETA's Global Beauty Without Bunnies list. Thus, we have the second pointer that bareMinerals doesn't test on animals.
About bareMinerals
Bare Minerals is known as a makeup and skincare brand that focuses on clean beauty. It has a diverse product portfolio, including foundation, powder, mascara, lipstick, gel cleanser, eyeliner, and more. They claim that up to 71% of their product formulas are vegan and 100% cruelty-free.
Bare Minerals is acquired by Orveon (Advent International), what does this mean?
In 2010, Bare Minerals was acquired by Shiseido, a Japanese company. After being part of this company, the products of this brand are sold strongly in the US and European markets.
So, did Bare Minerals follow this policy of its own? Yes, it did and the brand remained cruelty-free. After being acquired by Shiseido, the brand still claimed that it doesn't allow animal testing. It still maintains the principle of cleanliness for all of its products, meaning it is still 100% cruelty-free.
But it does'nt end here.
According to the latest news, Shiseido has resold the brand. Specifically, in August 2021, a series of articles reported that Shiseido had inked a deal to sell its bareMinerals and two other cosmetic brands, Buxom and Laura Mercier to Orveon. Orveon is brand name under Advent International that manages three beauty brands including bareMinerals.
The reason was revealed by Ron Gee, who's Shiseido's President and CEO: "Today's announcement represents another step in our strategy to become a leading beauty wellness company". Other sources also said that this acquisition is part of the company's plan to redirect the market. They will focus on high-end cosmetic brands in the Asian market instead of in the US as before.
Tricia Glynn, a managing director at Advent said that Advent will work to continue developing bareMinerals products while expanding its product portfolio and markets. (Source)
And considering their efforts until now and the brand statements, it is obvious that brand is staying true to its cruelty free promise.
bareMinerals' attempts to reinforce its "clean beauty" ideals
In addition to cruelty-free and vegan claims, Bare Minerals has many other remarkable activities that reinforce its ideal – "clean beauty". The following activities may be mentioned:
"Do good for the planet": They aim to use packaging that can be recycled or reused to minimize the impact on the environment. The proof is that they have switched from using cartons to certified paper.
"Recycling": They have a program called "Give Back, Get Back Recycling". This program encourages consumers to return empty boxes from old products to their stores to send to a recycling/reuse program. In 2021, the program was expanded to the U.K. and the U.S. and achieved the expected success.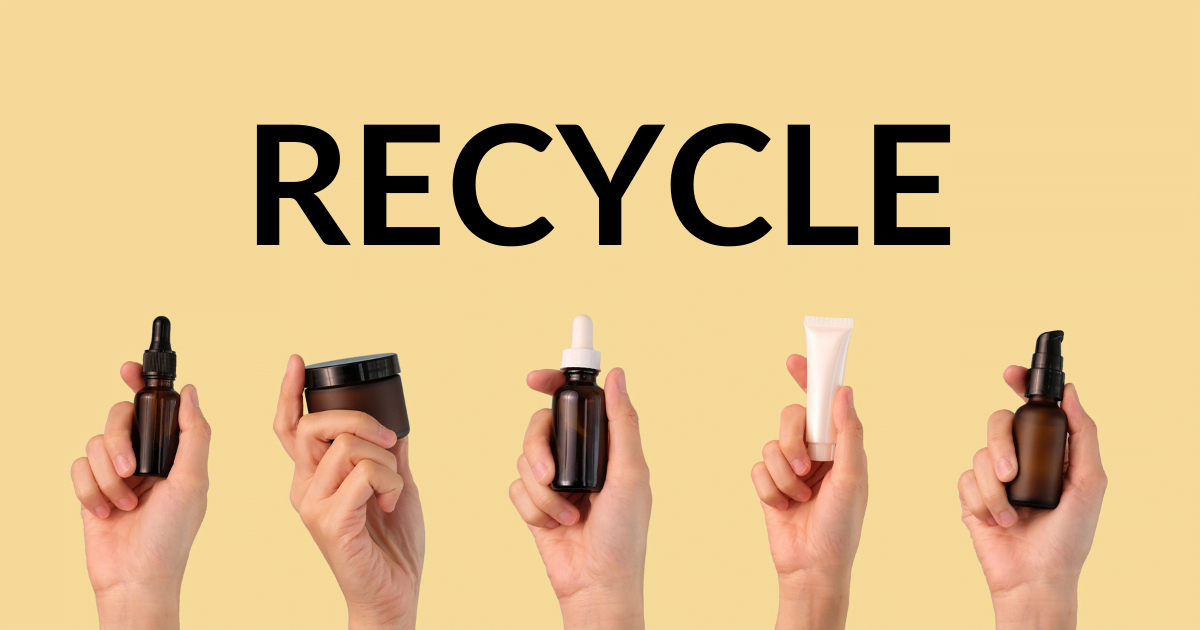 So, what is the final verdict?
Based on our research and evidence presented above regarding the cruelty-free claims of bareMinerals, there is no doubt that the brand is cruelty-free.
bareMinerals not just claims it, but is also on PETA's list of brands that do no test on animals. At the same time, the brand has no products sold in China, so it doesn't need to follow animal testing laws in this country.
Despite other issues associated with Shiseido, its old parent company, and Advent, which recently acquired this brand, we have no evidence that it will change our ideals.
Let us know what you think in the comments section below. Also read more about similar brands such as Dove that do not test on animasl.
FAQ
Is Bare Minerals a vegan brand?
Other than cruelty-free, we affirm that Bare Minerals is not completely vegan. Why is that?
They have declared themselves only 71% of their products vegan since 2020. That means the remaining 29% contain ingredients derived from animals. In fact, it has some products that contain honey, beeswax, silk, and carmine. In addition, it also uses animal hair to make brushes. That is the most practical evidence for this issue.
Who Owns bareMinerals?
bareMinerals was acquired by Orveon (Advent International) in Dec 2021 from Shiseodo. So now, Orveon owns bareMinerals.
Does bareMinerals sell its products in China?
As you may know, China is one of the countries that require animal testing for products imported from abroad. So most brands sold in this market are subject to animal testing laws. However, Bare Minerals has confirmed that it does not sell its products here. It's the final proof that the brand is cruelty-free.
Does the above change your opinion about Bare Minerals? With what we have, we can see this brand's efforts in the clean beauty trend since its inception. If you like their ideals, continue to support their products and programs in the future. Don't forget to read more of our cruelty-free articles on cosmetic brands.