Maybelline is a famous cosmetic brand in New York and has products sold globally. This brand is loved by a large number of young people, except those who oppose animal testing in the beauty industry. So does Maybelline test on animals? Let's dive into this issue to find the answer!
Table of Contents
Does Maybelline test on animals?
Some brands declare their animal testing policy on their website. But that is not the best proof as most of the brands tend to use clever marketing language to hide the truth. There are several ways to determine if a brand tests on animals. Along with the brand's animal testing policy, you should always check for cruelty-free certifications, and whether the brand sells in markets where animal testing is required by law.
Now, let's apply the same thing in the case of Maybelline.
Maybelline Animals Testing Policy
Maybelline states the following on its website:
According to that, Maybelline allows animal testing whenever it is required by law. This also points to the fact that Maybelline sells its products in such markets where animal testing is still mandatory to determine product safety. Therefore, Maybelline is not cruelty-free despite many claiming the opposite.
Is Maybelline Recognized as Cruelty-Free?
To be sure and to provide more proof to back our claim, let's also check if Maybelline is recognized as cruelty-free. We checked the PETA website (one of the organizations that work against animal testing) and here's what it says "Maybelline does test on animals". You can verify it here.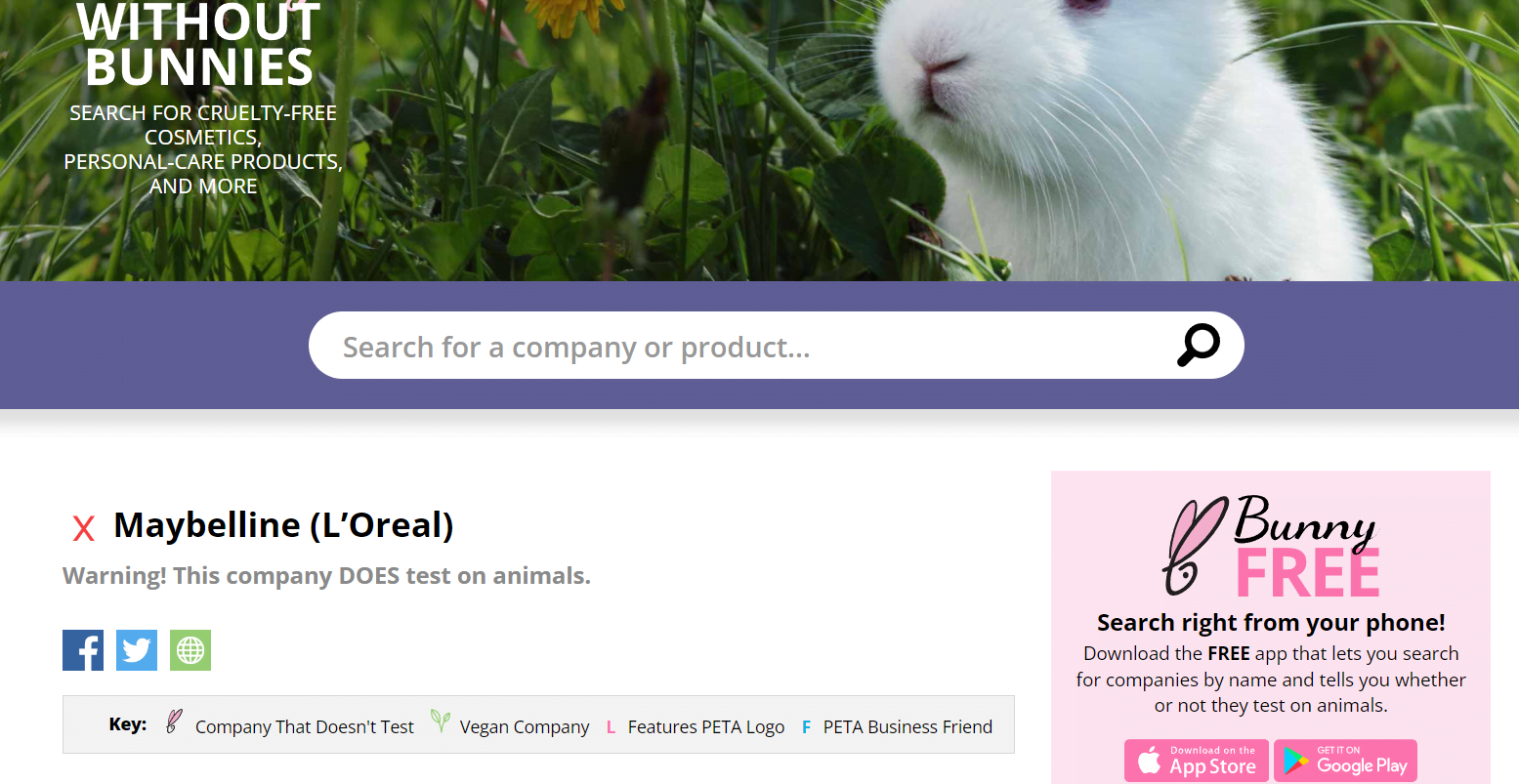 That's a second proof pointing out the fact that Maybelline is not cruelty-free. Maybe the brand is working towards becoming cruelty-free but its not there yet.
Are Maybelline products available in China?
For more proof of Maybelline's cruelty-free issue, we want to know if it was sold in China. Why is this important?
According to Chinese law, cosmetic products from imported from abroad must be tested on animals to ensure quality. Despite the changes to this law, it still requires rigorous animal testing for most products imported and sold in stores here. In other words, if Maybelline were to be sold in this market, it would be subject to animal testing requirements.
And the truth is, it does sell its products in China. We found its Chinese website.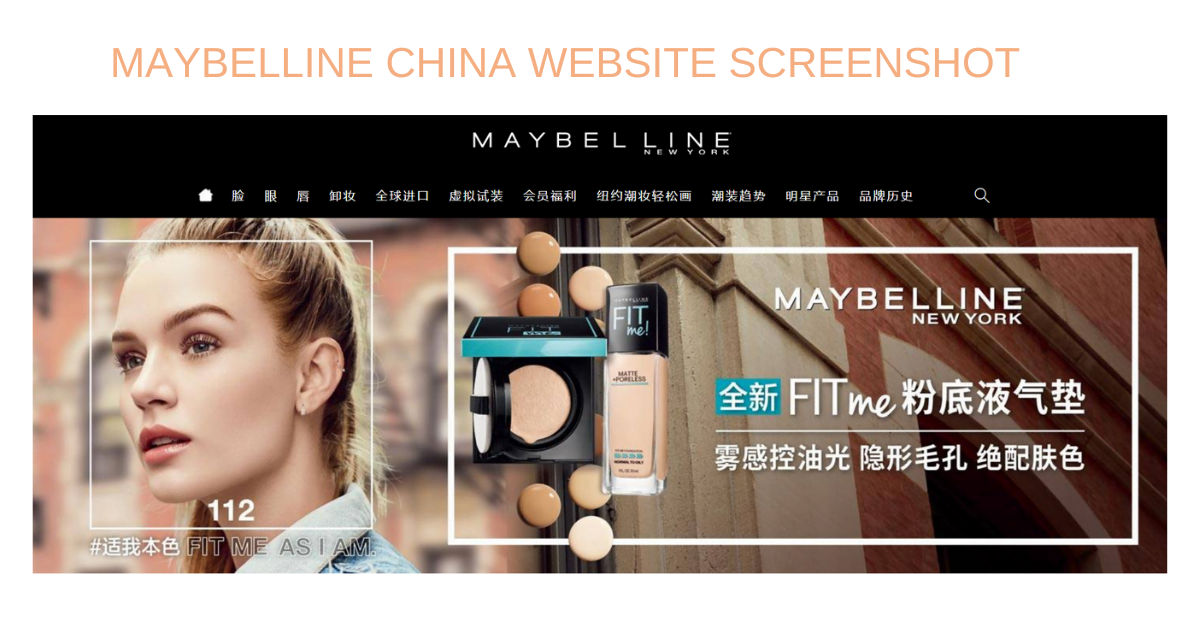 There are some new reports suggesting that as of Jan, 2023, China has further relaxed the animal testing law where companies can bypass the post market animal testing. However, we are still waiting for official confirmation.
Is Maybelline owned by a cruelty-free company?
The parent company of Maybelline is L'Oreal, a brand with a registered office in Paris. According to verification from PETA, this company allows testing on animals, which means it is not cruelty-free. This is the final evidence we have to come to a conclusion.
So, what's the conclusion?
Maybelline has products sold in China, where animal testing is required by law. Besides, it is not recognized as cruelty-free by any organization, including PETA. That's why it's on the list of cruel brands to avoid. The brand also claims that it will test on animals when required. At the same time, its parent company, L'Oreal is also an animal-tested brand.
Wrap-up: Maybelline is not cruelty-free!
Maybelline is not vegan, right?
Maybelline is not a cruelty-free brand, which doesn't mean it is not vegan. While "cruelty-free" means this product and its ingredients were not tested on animals, "vegan" means this product does not contain animal ingredients.
We can't claim that Maybelline is 100% vegan as they have no claim to this and we can't find any reliable newspaper that says it. But we found some of its vegan product lines on its official website.
Should I use Maybelline products?
We've covered the important material to confirm that Maybelline tests on animals. We will leave the rest of the decision up to you. What do you think of a cruelty-free cosmetic brand? Do you want to buy its products? What if you buy only vegan products?
In case you don't want to use Maybelline products, we have better suggestions for you. These are brands that have been recognized as cruelty-free and have vegan lines of products.
The cruelty-free brands to replace Maybelline
Here are some of the cruelty-free brands that can replace Maybelline.
1. ELF Cosmetics
According to PETA, this brand has 100% of its products recognized as cruelty-free and vegan. Therefore, it has been on PETA's Beauty Without Bunnies list since 2015. It also has a diverse product portfolio from makeup products for skin, eyes, and lips to skincare products such as moisturizers, masks, cleansers, makeup removers, sunscreen, and more. Check them out on the official ELF Cosmetics website.
2. Milani
According to our search results on PETA, we learned that "This company does NOT test on animals." Besides, this brand has a pretty high score (3.8 points) for cruelty-free and vegan criteria, according to the results from zoobop. That's why you should check out Milani products here.
3. ColourPop
Similar to the two brands above, ColourPop is also recognized as cruelty-free by PETA and highly rated by zoobop. This brand will bring you a wide range of safe makeup and skincare products. Do you want to see its products? Click here.
4. Essence
We have proof that PETA has approved the essence not to be tested on animals. It is also a globally famous cosmetic brand and a perfect alternative to Maybelline. Visit the Essence website to see a range of options.
Note: A cruelty-free brand doesn't mean it's vegan. Of course, it has vegan lines and you can try them out. However, being vegan and cruelty-free doesn't mean it's completely safe for your skin. There are other ingredients that can cause skin allergies if you don't match them. So you should check product ingredients and take the time to monitor their effects.
Do you want to know whether other brands test on animals and are cruelty-free or vegan? Check out our other articles.