Fresh is a big cosmetics and skincare brand raised in New York. It has products that combine natural ingredients and modern science. But is Fresh cruelty-free? This is an issue that deserves attention in 2022.
We have proof that Fresh is not cruelty-free as it is sold in China and tests on animals when required by law. Let's dive into this issue now before jumping to conclusions.
Is Fresh Cruelty Free?
Based on our cruelty-free criteria, the following requirements should be met to call a brand cruelty-free:
Neither the product nor its ingredients have been tested on animals.
The manufacturer does not test on animals and does not authorize other third parties to do that.
Its supplier does not test on animals.
It does not sell its products in markets where animal testing is required by law.
Let's compare these criteria in the case of Fresh to see if it is considered cruelty-free.
Fresh Animal Testing Policy
We got a response from Fresh when asked "What is fresh's position on animal testing?". And here is its answer.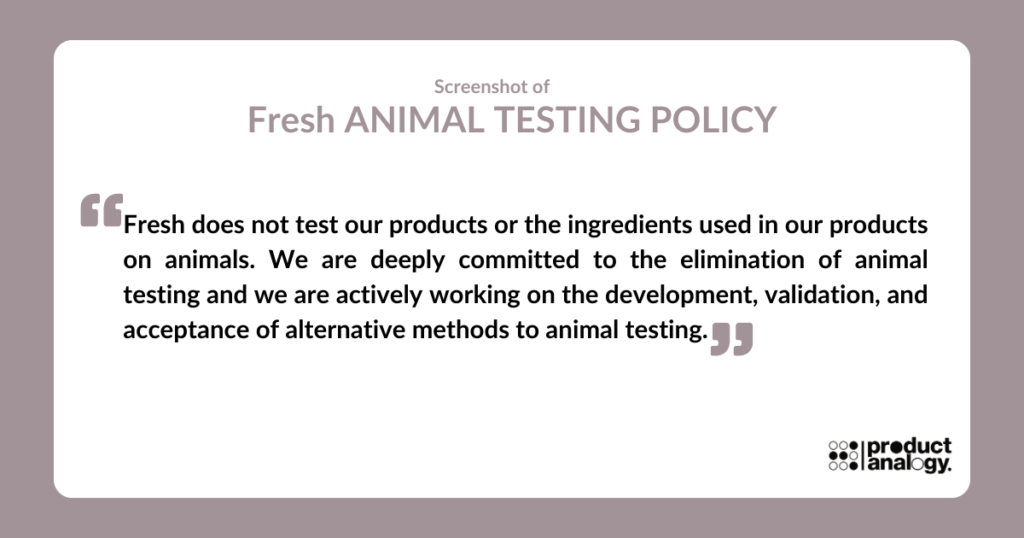 As per this, Fresh states that it does not test on animals and is working to replace animal testing with other methods. But we cannot claim it is cruelty-free just based on this statement. We need to examine more evidence.
Fresh is sold in China, what does this mean?
Fresh has introduced its products to the Chinese market through Tmall since 2017. This is its sales homepage in China.
Besides, according to an article on "Digital Commerce360", we know that:
"Alibaba also says that compared with brands targeting a mass audience, luxury brands have recently been more aggressive in digital expansion, a product of the strong demand for quality goods from China's online consumers. For example, LVMH introduced its cosmetics brand Fresh into China via a Tmall brand store in February."
These are proof that this brand has been sold in this market. But what does it mean?
As you may already know, China is one of the remaining countries in the world that requires animal testing for products imported from abroad. However, in May 2021, this country changed its rules slightly. Accordingly, it allows non-specific products to be imported and sold here without testing on animals. But those products need to meet certain conditions.
We have no evidence that Fresh has passed these conditions for its products imported into China. But in reality, there are very few brands that pass the testing stage because of the ambiguity of the censorship criteria. Furthermore, most products sold in China will have to pass post-market animal testing.
For the above reasons, the possibility of being required to test on animals in the Chinese market is very high in the case of Fresh.
Is Fresh recognized as cruelty-free?
For more solid proof of Fresh's cruelty-free issue, we tried looking it up on the PETA and Leaping Bunny websites. And there were no results that matched our search.
But on the homepage of "Cruelty-Free Kitty", it says "Fresh is not cruelty-free. They may test on animals, either themselves, through their suppliers, or a third party. Brands who fall under this category could also be selling products where animal testing is required by law."
In other words, this brand has not been recognized as cruelty-free by any organization.
Is Fresh owned by the cruelty-free parent company?
Fresh is a brand under the parent company LVMH, founded in 1987 in France. According to this company's environmental report in 2015, it states that:
"The LVMH Group's policy on the sensitive issue of using animal testing as part of our assessment of the safety of finished products has always been clearly defined: the aim is to ensure the safety of products' consumers while taking respect for animal life into account. "
"A similar approach is currently under development in China. This post-marketing follow-up of the products enables new research avenues to be explored and the quality and high tolerance of the products to be improved on an ongoing basis."
As such, LVMH claimed that it tests on animals and complies with laws requiring animal testing in its markets, typically in China. In other words, Fresh's parent company, LVMH, is not cruelty-free.
Final statement: Fresh is not cruelty-free!
Although Fresh has stated that it does not test on animals, it sells its products in China, where animal testing is required. Besides, it is owned by LVMH, a company that is not cruelty-free.
Therefore, we have temporarily concluded that Fresh is not cruelty-free and it tests on animals when required by law. It will be on the "avoid" list for those who oppose animal testing.
Frequently asked questions about Fresh
Is Fresh vegan?
Fresh does not label its products as "vegan". Furthermore, it may have been tested on animals, so it is not considered 100% vegan-friendly.
Should I buy Fresh products?
Buying Fresh products depends upon your point of view. According to our research, Fresh can be not cruelty-free and vegan. If you don't care about that, feel free to buy its products. If you oppose animal testing and cruelty, criticize this behavior and encourage Fresh to make changes in the future.
What are the best brands to replace Fresh?
There are many cosmetic and skincare brands that are recognized as cruelty-free by PETA. At the same time, they have no products sold in China, so they are not required to be tested on animals by law. So they might be alternatives for you. Check out the following brands:
Bare Minerals
Paula's Choice
Drunk Elephant
Derma E
Check out our other articles on the cruelty-free issue in other cosmetic brands, like "Does Revlon test on animals?", "Does Dove test on animals?" and "Is Bare Minerals cruelty-free?".