Nowadays considering a child's interest and psyche, mini cars for kids are available that are greatly enhanced by technology. These cars offer amazing features and greater functionality compared to previous models available.
In this article, I will introduce you to 10 of my personal favorite mini cars for kids. Kids can easily drive these cars if they are old enough or parents can control the movements through parental remote control. Also, they do make a great birthday gift and I bet you and your young buddy will love them.
So, let's take a look at these mini cars for kids with their pros and cons and see which one steals your heart.
Power Wheels Jurassic Park Jeep for Kids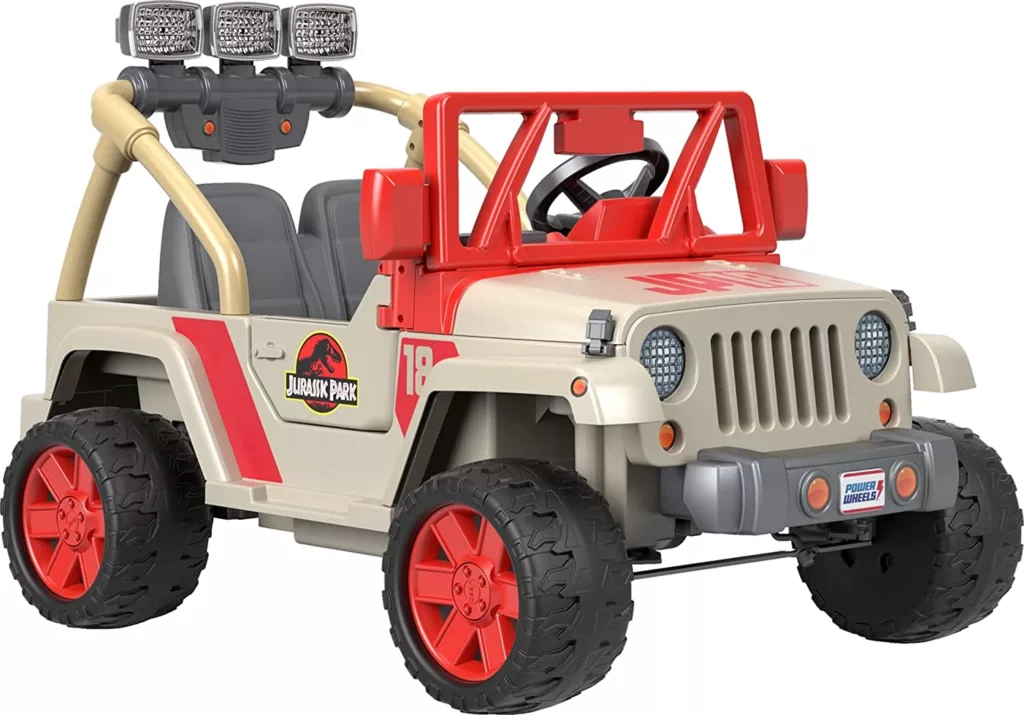 Key Specifications
Recommended Age Limit

3-7 years
Powerwheels Jurassic Park themed jeep for kids is among the best mini cars for kids because of its amazing design and cool features. With a real light bar to shine the way ahead and realistic dinosaur chase sounds, your young riders are going to love this one.
This jeep offers 2 speed options for kids, 2.5 mph and 5 mph for forward movements while 2.5 mph for reverse. Also, for safety and control, the this kids jeep also features parental high speed lockout option. That allows parents to lock the high speed in the beginning until your kid masters the wheels.
Another safety feature in this mini car for kids is power-lock brakes. So, whenever kids move their foot away from the pedal, the jeep stops automatically.
As for weight capacity, this jeep supports the weight of up to 130 lbs. Along with that, there are two seats, for your young one and their sidekick.
What I like the most about this kids car is that it will last your kids for a long time and drives great whether your kid drives it on the grass, gravel or on the road.
Attention!!
This kids car doesn't have a parental remote control. So, it would be wise to choose a different car for your kids if they are under 3 years or can't drive independently.
---
Explorer 2 Kids Car Truck for TWO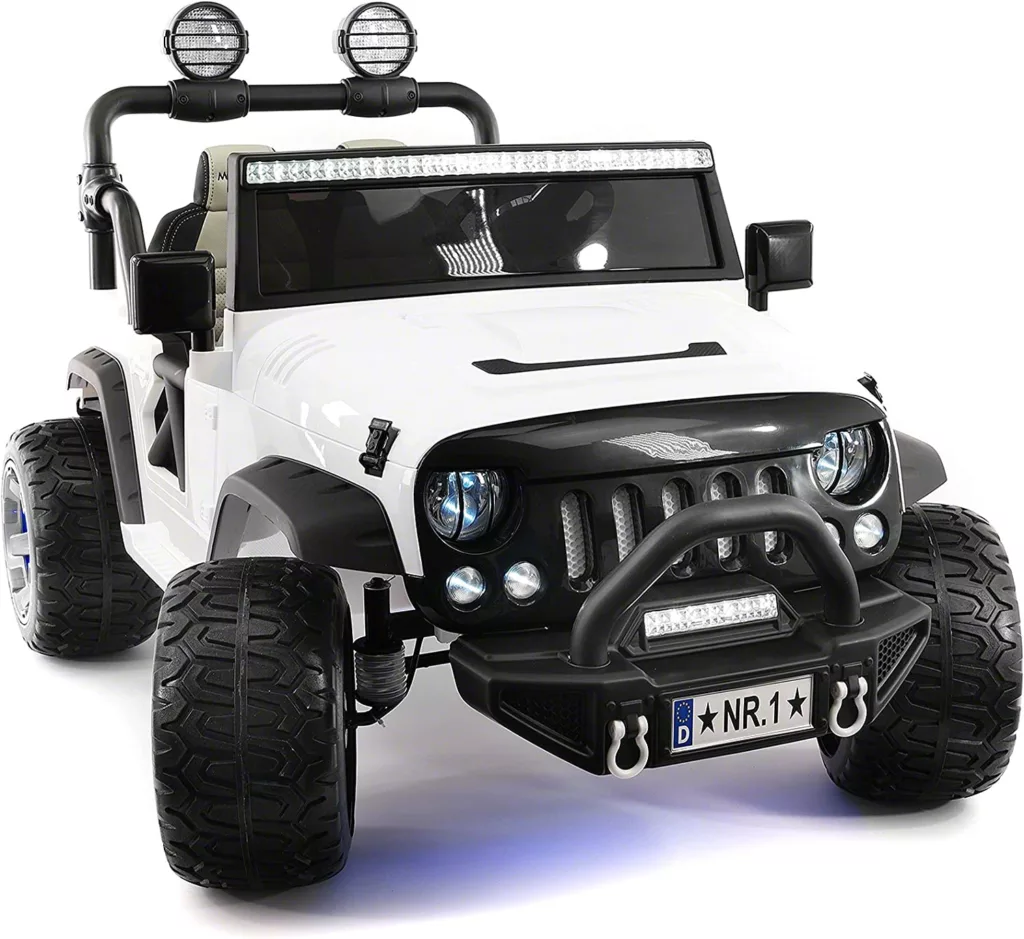 Key Specifications
Recommended Age Limit

3-8 years
Buying cars for kids can be easy because there is a huge variety available. But when it comes to trucks, the scenario is completely different. It is extremely difficult to find a good quality car truck for kids. However, this is not going to be an issue for you because we have something that is just perfect.
Explorer 2 is a 12V, 2 seater ride on car truck with a 12 Ah overcharge and overload protected battery.
There are 2 powerful motors that support 2 forward and 1 reverse speed with a speed limit of 2-5 MPH.
Besides that, the 2.4 GHz long range parental remote control can help you to supervise and control your kids driving. Also, there are 3 speed levels when you are operating the truck through the remote control
The engine power-ups softly with realistic sounds and creates a natural driving feeling. Along with that, your champ can listen to all the music he wants through a built-in MP3 player and radio. The MP3 player can support external devices like phones, USB drives and micro SD cards.
As this truck is for two, there is two way PU leather seat with a convertible safety belt for both kids. The seat can also be adjusted based on your kid's needs.
For comfort and safety, this car truck for kids features an electrical braking system, double shock absorbers, gradual acceleration, and the best EVA foam rubber tires.

One thing to keep in mind is that this truck is suitable for two riders from 2-6 years, while their combined weight doesn't surpass 100 pounds.
Best Choice Products Kids 12V Ride On Electric Lamborghini – Best Design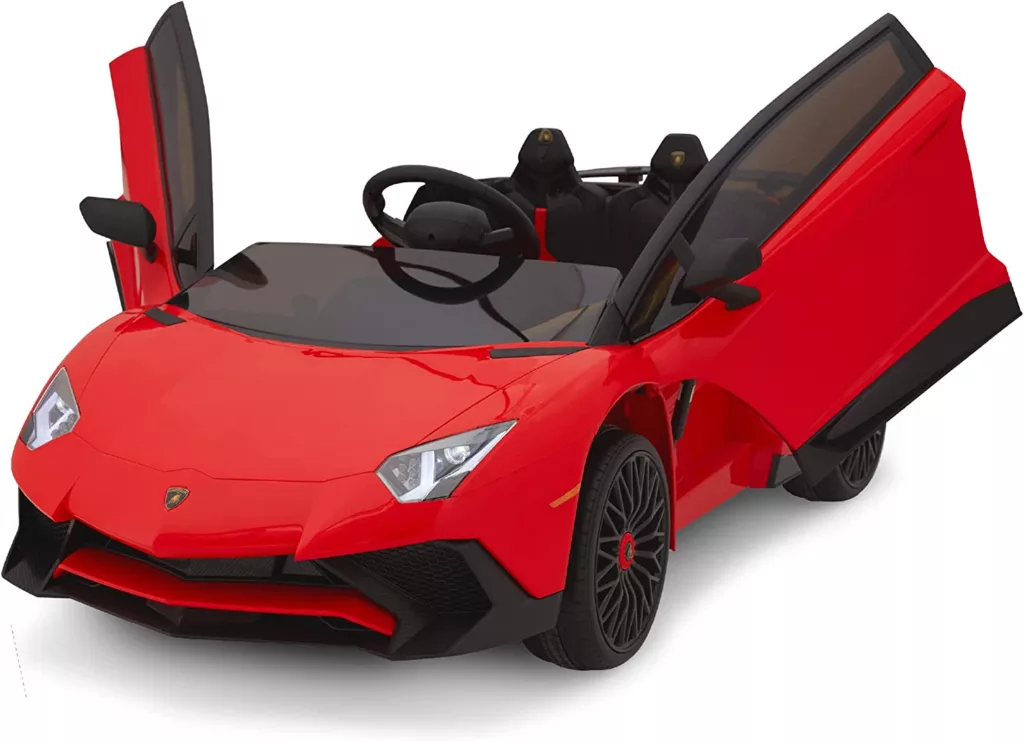 Key Specifications
Recommended Age Limit

3-8 years old

Run Time

1-2 Hours depending on kid's weight
This 12 V electric Lamborghini Aventador is one of the most exotic designs available in the market. If your little one loves sports cars then this is the ride-on car for them.
Starting from its functionality, there are two driving modes with two different speed options. Parents can control it through Remote control while kids can drive it manually, using pedal and steering wheel.
There is a horn, head & rear LED lights, and cool scissor doors as well. These scissor doors basically open and close like the real Aventador and give kids a sense of style and uniqueness.
For entertainment, there is a built-in media player with AUX input in this mini car for kids. So, you can play your kids' favorite tracks and double the fun.
Other than that, the assembly for this car is fairly easy and straightforward. It doesn't take more than 30 minutes to unpack and assemble it, even with basic knowledge.
This mini car for kids is available in 4 different colors. With its adjustable speed and 3.7 MPH Max speed level, your kid can drive it safely but in a fun way. Meanwhile, there is 66 lbs weight capacity for riders which makes it suitable for riders from 3-8 years. Kids younger than 3 can drive but under adult supervision.
Other Specifications
Car Dimensions: 52 x 28.8 x 18 inches
Weight: 45.9 pounds
12 V Battery (Rechargeable)
Charging Time: 8-10 Hours (12 hours for first charge)
---
ReadyGo Licensed Chevrolet Silverado Kids Ride on Truck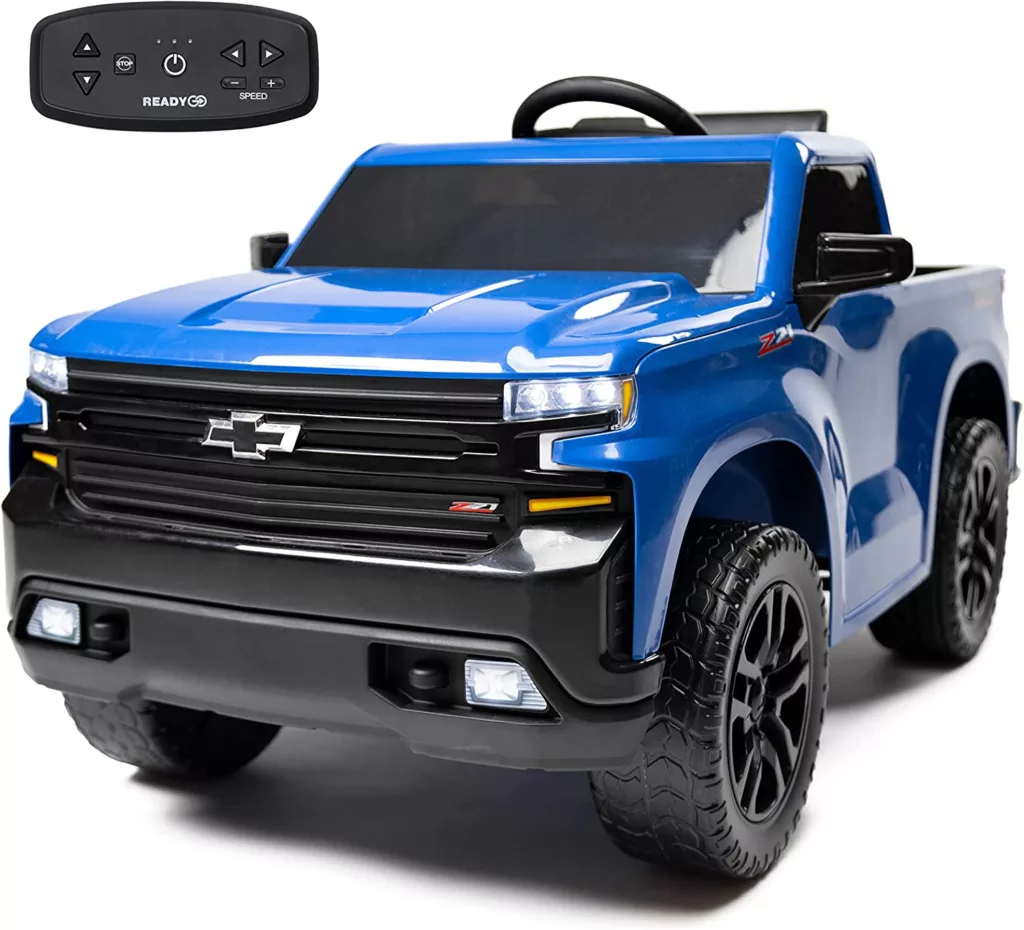 Key Specifications
Recommended Age Limit

3-7 years

Speed Level

2.5 mph & 5 mph
Next car on our list of 10 best mini cars for kids is this 12V battery powered Chevrolet Silverado by ReadyGo.
This kids truck is equipped with all the practical features that parents look for in cars for kids. Firstly, it is made of non-toxic materials and conforms to ASTM F963-16 standards. Secondly, it ensures kids' safety through two driving modes. Kids can drive this truck by using the gas pedal and steering wheel. However, they are not the ones in charge. This is Because parents can control the car movements through remote control and supervise the kids driving.
Other than these safety features, there are many other good features too. For instance, there are two different speed levels, 2.5 mph, and 5 mph. Furthermore, it has the coolest design with realistic details.
This mini car is very realistic and suitable for kids from 3-7 years old and can bear weight up to 66 lbs.
With working LED lights, real car noises, and an opening tailgate, it is safe to say that this Chevrolet Silverado is fun.
Specifications
Mini car truck dimensions: 46.06 x 25.59 x 22.83 inches
Weight: 35 lbs
Battery: 12V 7Ah
Charging time: About 10 hours
---
Lamborghini Aventador Mini Ride on Kids Car by KidZone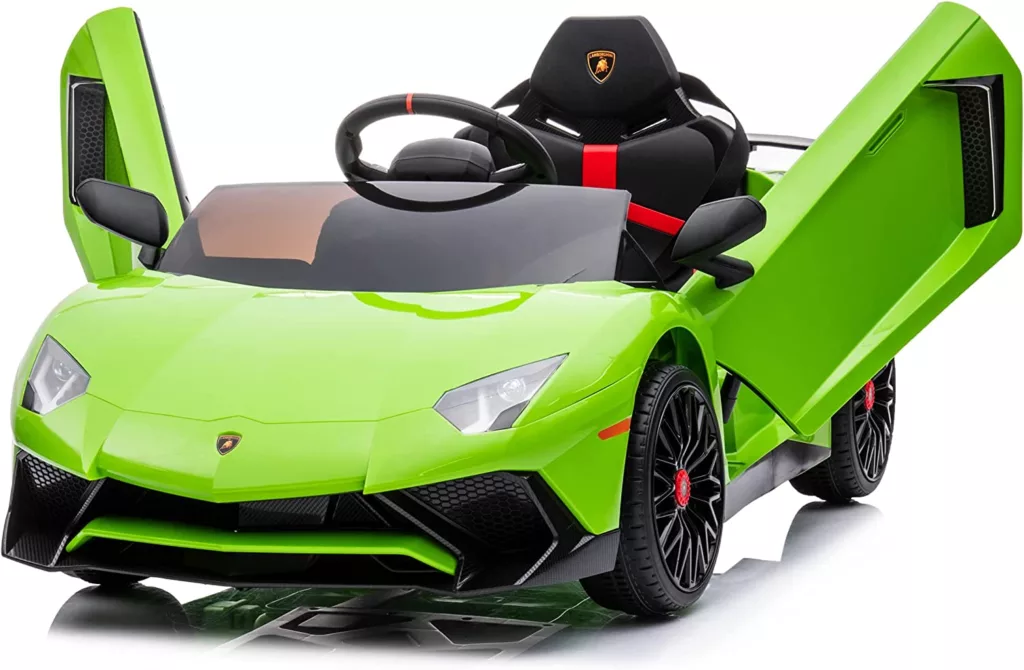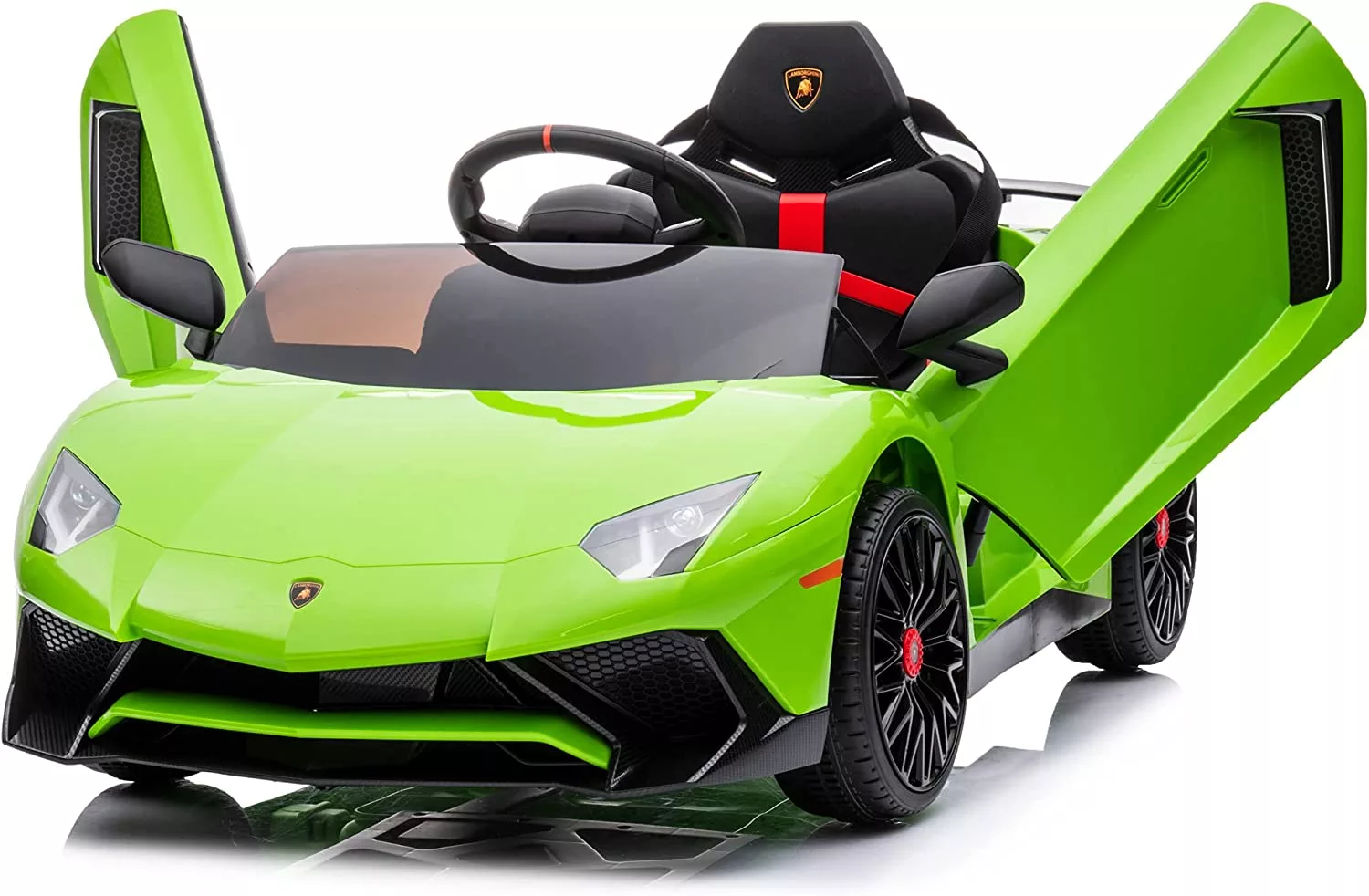 Key Specifications
Recommended Age Limit

3-4 years
The next one on our list is Lamborghini Aventador by KidZone which is a cool yet safe ride for kids. The car features a great design, scissor doors with hydraulics, and carbon fiber accessories that give it a realistic touch.
This mini car for kids comes with two 25W motors that provide 2-speed levels (0.7 – 2.2MPH). Even though some kids don't like this speed and want faster, it is very suitable and safe for young kids. Moreover, the car comes with wear resistant ASTM certified wheels that are suitable for all terrain types.
Additionally, there is the parental remote control, push-button ignition option, music player, car sounds, and working lights. These features make this car fun for kids while bringing a sense of satisfaction to the parents.
Finally, there is also a 3 point safety seat belt which is the cherry on top and makes it one of the best mini cars for kids to drive.
---
Costzon 12V Battery Powered Kids Car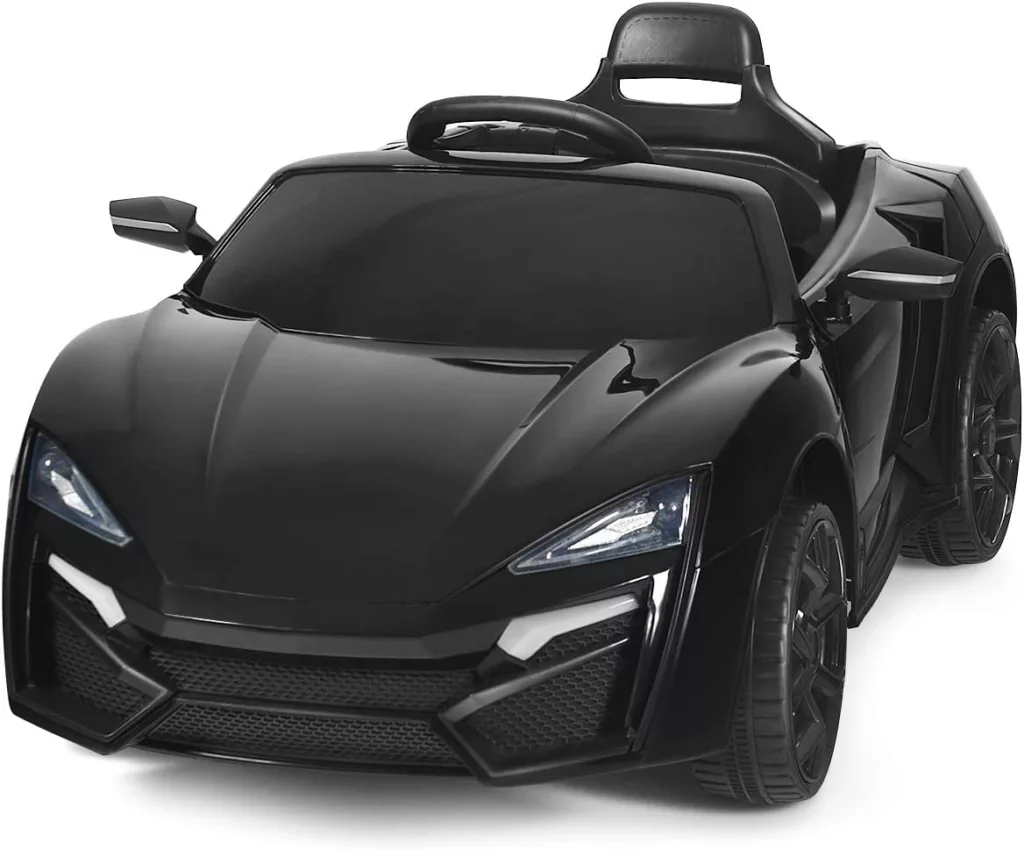 Key Specifications
Recommended Age Limit

3-6 years

Speed Level

3-5 km/h (as advertised by seller)

Run Time

Can last up to 1 hour or more
The next mini car for kids on our list is this 12V battery-powered car from Costzon.
The car is equipped with a variety of features for safety and entertainment. For starters, this kids' car comes with working front and back lights, opening doors for a realistic feeling that have door locks, and a big seat with a seat belt.
Furthermore, there are various driving options. Kids can drive the car using the steering wheel and foot pedal or the forward/stop/backward movement button. As for parents, the car comes with a parental remote control that allows parents to monitor and control these mini cars. You can easily control the car while it's around 100 ft away from you.
Then, there are realistic startup sounds and different options to play music including USB, TF card slot, MP3 ports, and more.
---
Uenjoy Volkswagen Beetle 12V car for kids to drive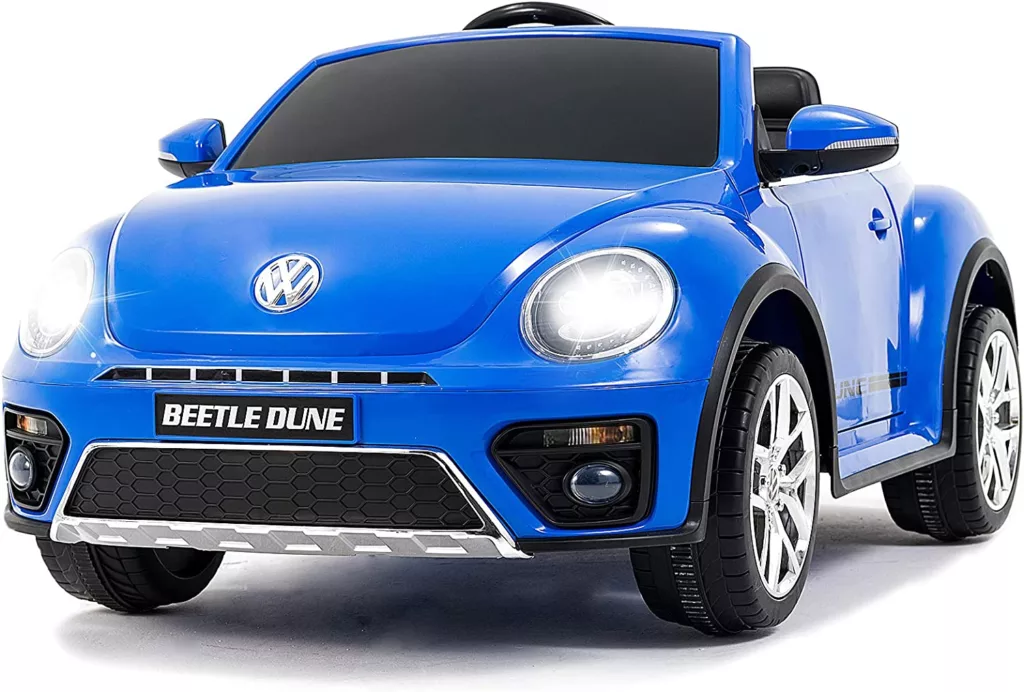 Key Specifications
Recommended Age Limit

3-5 years
Beetle 12V mini car for kids is another beauty manufactured by Uenjoy. Like other highest-quality kids cars, this one has all the amazing features that you and your kid will love.
Starting from design, this is an original authorized and licensed Volkswagen beetle car design for kids to drive. This car is available in 4 colors i.e Blue, White, Yellow and Pink. Moreover, there are LED head and tail lights that make this mini car more attractive at night.
There is a power button for a quick start and a power display. Other than that, there is USB, Bluetooth, and FM options to play and listen to music while your kid is driving this mini car.
This Beetle features 4 wheel suspension system to make the ride smooth and safe for kids. Besides that, there is a seat belt that ensures kids' safety.
For driving this car, both manual and remote control options are available. Kids can ride this car through a gas pedal, steering, and gear liver which make driving experience realistic. At the same time, parents can control the ride through a 3-speed option remote controller that has an instant stop button and movement control buttons on it.
This mini car is suitable for kids from 1-5 years of age. Another huge advantage is that it comes with a free return policy and free replacement parts for 6 months. Along with that, this car has a run time of almost an hour which depends on the kid's weight.
Other Specifications
Car size: 49 x 28 x 20 inches
Battery: 12V 7AH
Motor: 2 * 12V
Charging Time: 8-12 hours (automatically controlled)
---
Uenjoy Maserati GranCabrio 12V Electric Kids Ride On Cars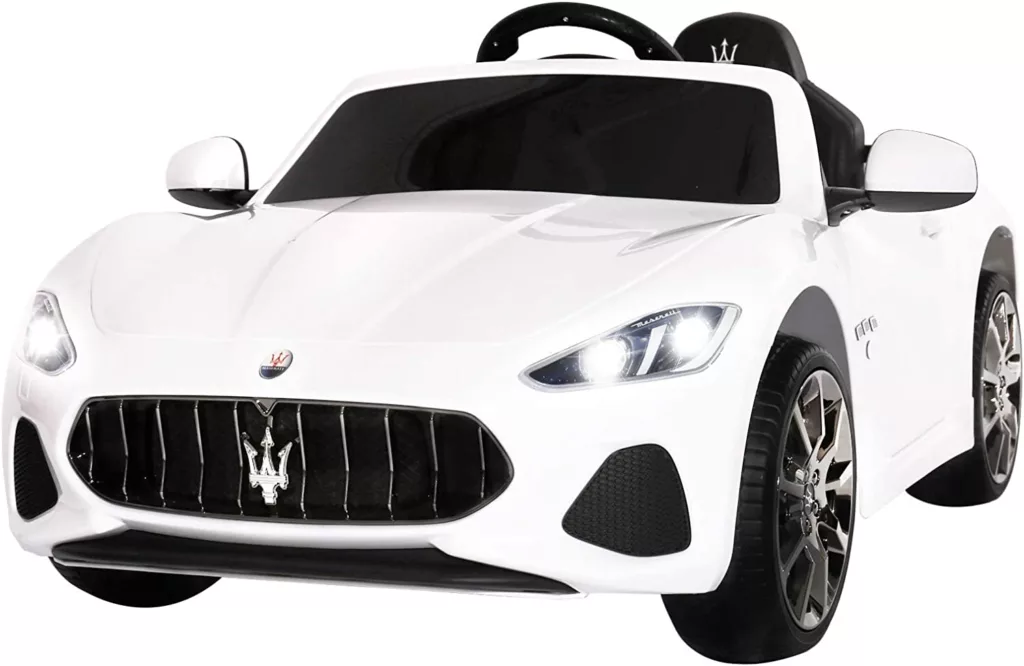 Key Specifications
Recommended Age Limit

3+ years
Uenjoy is well known for its excellent quality products, especially among parents. This mini Grancabrio is one of their best-rated designs ever. This is because it comes with all practical features that kids and parents love equally.
For instance, shift lever controls for forward and backward moments and steering control with the gas pedal. All these features give a realistic feeling and make riding this mini car very special.
Other than that, there are two headlights and taillights. These 4 lights make car more beautiful in the dark.
There is also a music player, which comes with built-in songs and can also use Bluetooth as an input source. And your kids can listen to FM radio as well.
Music and Horn buttons are also available at the steering wheel which increases the fun of riding this kids' car.
This mini car has spring suspension with Eva wheels that provide utmost comfirt.
In addition, it comes with a 2.4 G wireless remote control, that gives movement controls to parents and a seat belt to keep kids safe.
As for the age limit, this car is suitable for kids for up to 5 years. But if your kid is under 3, I would advise parents to supervise kids while they are riding this mini beauty.
Besides that, this mini car for kids comes in 5 different colors including black, pink, blue, and white.
Also, there is 3 months of free return and one-year warranty with free replacement parts. Considering all the features, this is surely one of the best mini cars for kids in the market.
Other Specifications
Car Dimensions: 48.4"L * 23.2"W * 20"H
Battery: 12V 7 Ah battery (included)
Motor: 12V 2*45 W motors
Charger: 12V 1000 MA
---
Mercedes Benz 300SL 6V Electric car for kids by WaterJoy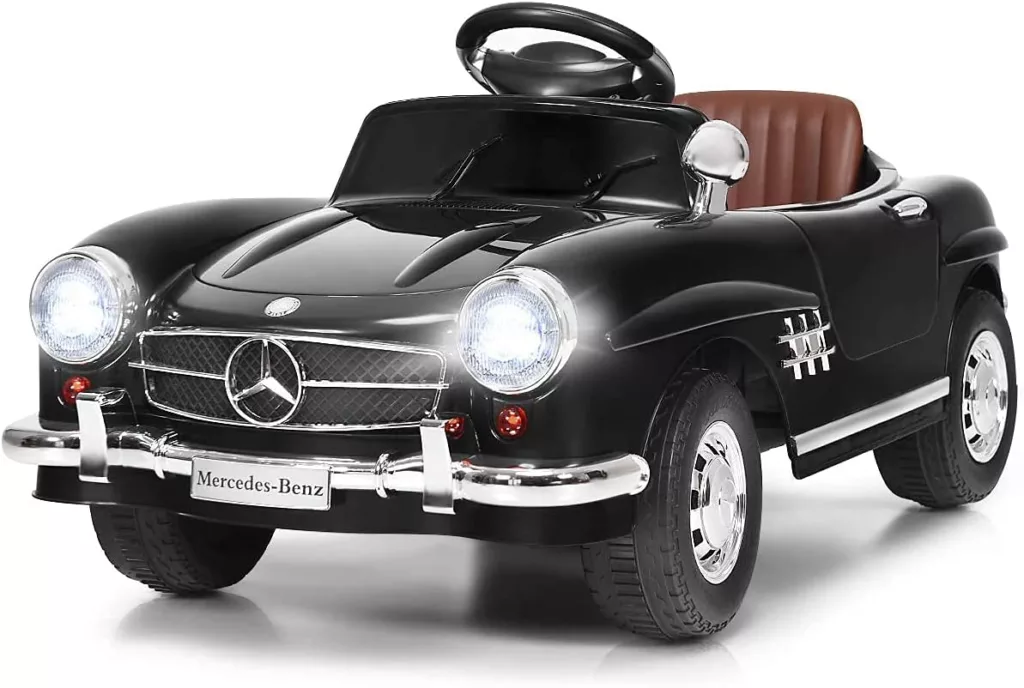 Key Specifications
Recommended Age Limit

3-5 years

Run Time

30 minutes to 1 Hour
Mercedes Benz 300SL is a licensed luxury design by WaterJoy and Amazon Choice for electric cars for 1-3 years old toddlers.
Made from rugged plastic material for durability, this car has all the safety and entertainment features that you will need. There are two driving modes, manual and parental remote control. The seat is also wide and comes with a seat belt to keep toddlers safe.
Additionally, the car is equipped with all the features such as a music player with volume knob, horn, 3 different speed levels which can be changed through the button on the dashboard of the car, lights switch, and even the on/off switch. That gives kids' a natural feeling and makes riding more fun.
A word of caution!

The seller recommended age for this kids car is up to 8 years. However, the car has max weight limit of 44 lbs. That means, it can hardly support kids of 5 years. So, if your kid is 5 years of age or older, choose any other car.

Moreover, this car for kids comes with 6 month warranty, so you can ask for replacement in case any parts fail.
---
12V Bentley EXP 12 battery-powered mini car for kids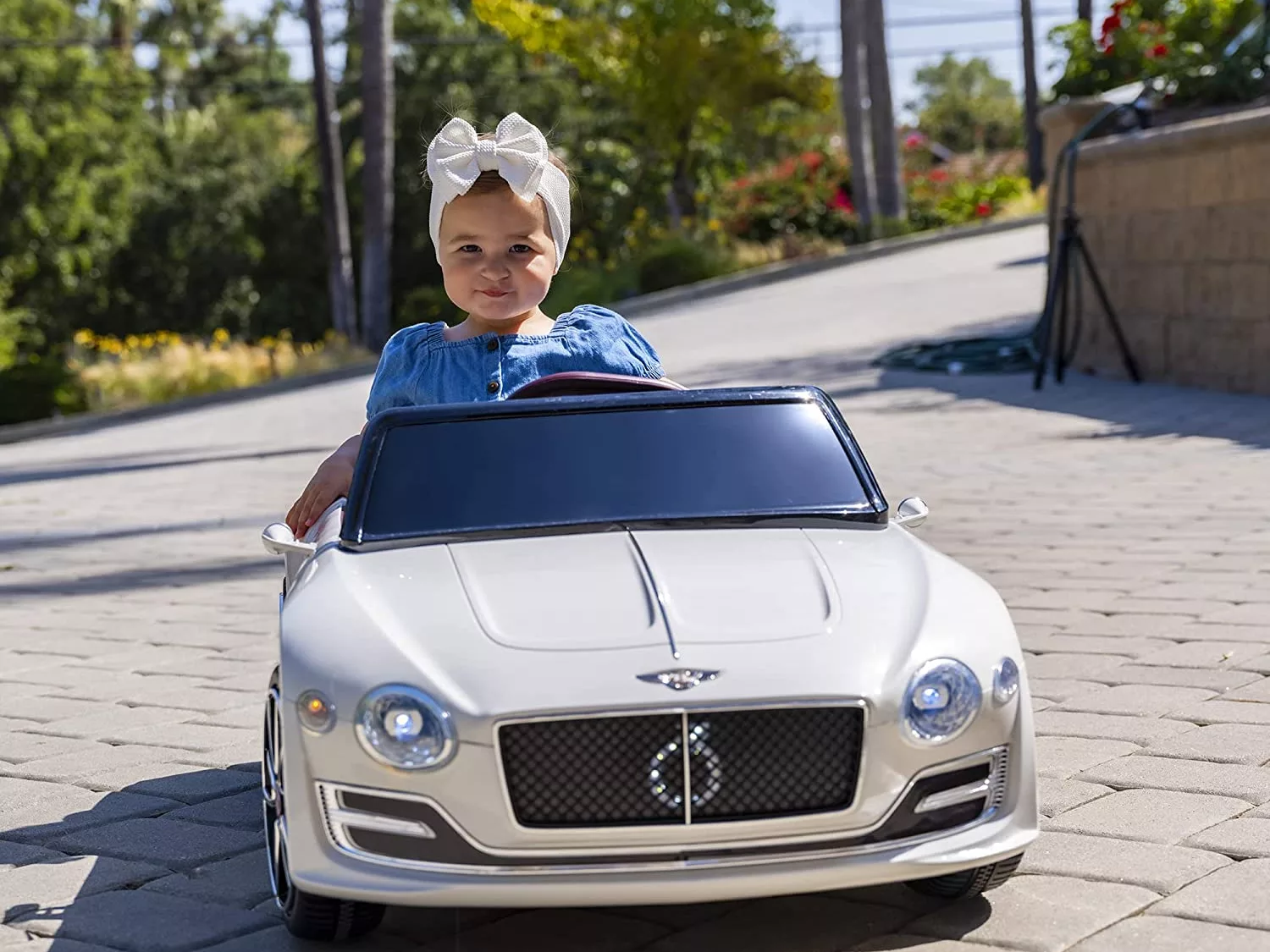 Key Specifications
Recommended Age Limit

1-3 years

Speed Level

3 mph Max Speed
Bentley EXP 12 is the last car on our list with a cool design and pocket friendly pricing. This is another car on our list that is specifically made for toddlers.
Though many cars for kids offer realistic features, this one takes that to a whole new level considering its price. Starting from a textured body to push-button start, and a gear level for forward and backward moments, this car has a lot to offer for kids. I also love its fancy and realistic steering wheel design with a horn and the hydraulics opening doors.
For safety, the car comes with an adjustable seat belt, soft start, and low and high speed function. Since the car is primarily for toddlers, the max speed is also 3 mph.
Similarly, there is support for various music playing options such as USB port, Aux, and TF card. Combined, all these features make kids riding experience safe, better and fun.
Those who are looking for a pocket friendly mini cars for their kid, they should consider going for this 12V Bentley EXP.
---
This buyer guide is the second version of the previously written article on real cars for kids. You can also check out that article too for some more buying options.
As you have gone through all of the ten best mini cars for kids, we have a bonus product for you. This bonus kids electric vehicle is John Deere Ground force tractor with trailer made by Peg Perego.
Peg Perego John Deere Ground Force Tractor with Trailer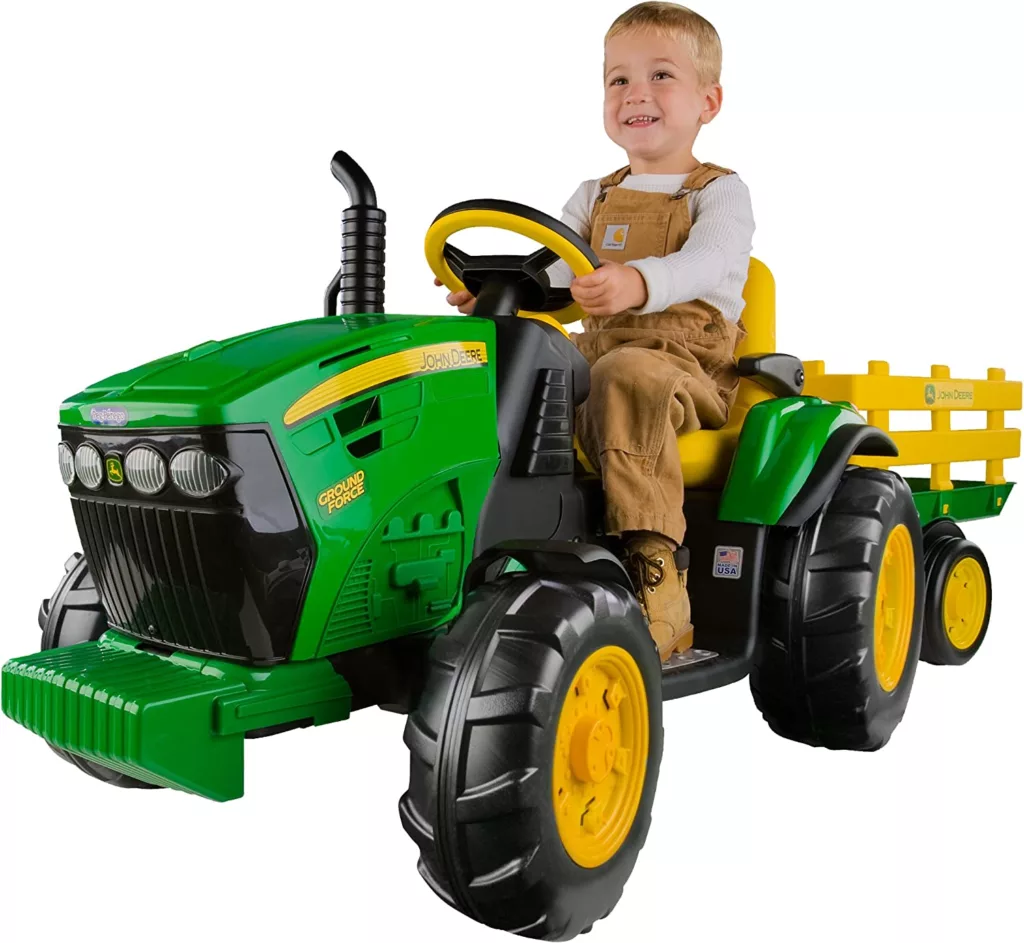 This ground force tractor and trailer for kids is the No. 1 best selling product in Kids Electric Vehicles on amazon. This is not just because of the uniqueness but highest quality standards and the fun and learning it provides for kids.
This tractor features many good options like manual controls, speed locking, detachable trailer, FM Radio and 4 wheel drive for kids.
For manual ride, kids can use the steering wheel, accelerator and gear lever which make this ride fun for them. The 4 wheel drive option makes this ride very powerful and able to support kids in their little games and carrying things from one place to another.
Moreover, there are 2 speeds for driving i.e 2.5 MPH and 4.5 MPH. But parents can lock the 4.5 MPH speed when their kids is learning to drive this tractor. After a while, when he can drive easily and safely, you can unlock the upper speed and allow him to enjoy the tractor ride at best.
The combo of Farm tractor tire and 4 WD enables the tractor to have a strong grip on gravel, grass, dirt or any plain surface. So, the fun is non-stop no matter where you live.
Other than that, this Peg Perego tractor features adjustable seat with flip up arm rests. That helps in easy sitting and getting in and out without any issue.
For quality assurance, there is 6 months to one year warranty if you purchase this tractor directly from Peg Perego.
Specifications
Dimensions: 62.5 x 26.5 x 24.5 inches
Weight: 50 Pounds
Weight Capacity: 85 lbs
Run Time: 1-2 hours on average depending on weight and terrain. Can even go to 3 hours if the battery is charged and maintained properly.
Charging time: 15-18 hours for a full charge
So, did we help you find a suitable car for your kid? let us know in the comments section below.
To find out what aspects I considered while writing this article, take a look at tips for choosing ride-on cars for kids. And just In case you did not find any suitable options from this list, check out our list of real cars for kids to find more options with different features and price ranges.