The rise of remote work in the past few years has brought about a significant shift in the way we work. Therefore, project management tools have become essential to ensure that team members are working efficiently and effectively towards shared goals.
As someone who works remotely, I have used several project management tools from Asana to Monday.com. And I am always on the lookout for better tools that can help me and my team manage our projects more effectively. That's why I was excited to try out Teamly, a project management tool designed specifically for remote teams.
After using Teamly for a few weeks now, I can confidently say that it is a comprehensive tool that can help remote teams work more efficiently and productively.
How Teamly Revolutionizes Remote Project Management with These Key Features
Teamly is a powerful project management tool designed to help remote teams stay organized and efficient. With its unique set of features, Teamly makes it easy to manage tasks, communicate with team members, track progress, and more.
Here are some of the top features that make Teamly stand out from other project management tools for remote teams.
Chat Feature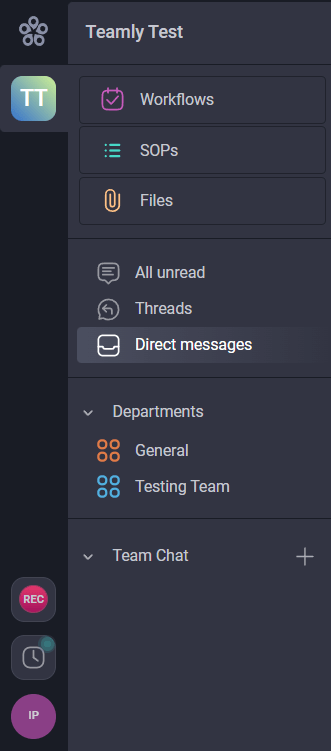 One of the best features of Teamly is its chat feature. The ability to communicate in real-time is crucial for remote teams, and Teamly's chat feature makes it easy to do so. With text, audio, and video chat options, team members can easily collaborate, share ideas, and ask questions. The chat feature also makes it easy to share files and documents, ensuring that everyone is working with the same information.
And it is not just limited to a general chat. You can create teams based on different departments or employee groups such as Writers, QA, UI/UX Designers, and others. In such a scenario, every team would have a specific team chat and then a general chat as well where everyone can respond.
Additionally, there is a direct message option that allows users to reach out to each other and provide personal feedback or share details that do not concern others.
Task Management
Another standout feature of Teamly is its task management functionality with a variety of options.
With the ability to create tasks, team members can stay on top of their responsibilities and ensure that they are working towards the same goals. The ability to assign tasks to specific team members and set due dates also helps to keep everyone on track and ensures that projects are completed on time.
In addition to that, the responsible person can share task-related files under the task while team managers can provide comments and feedback. Therefore, all the discussion and information regarding any task is right there and can be reviewed.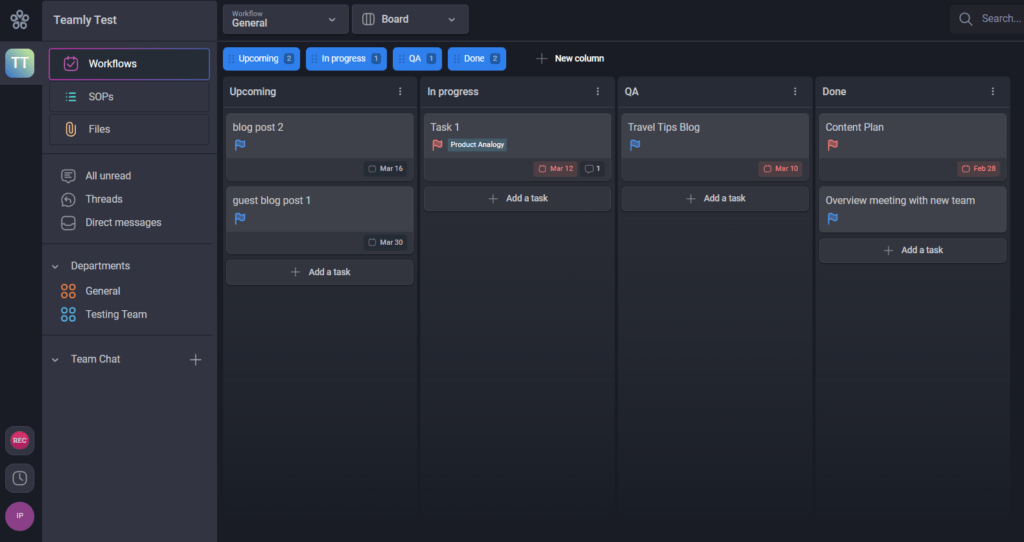 The task management tab is available under Workflow and has 3 different View options; Board, Tasks, and Timeline. That allows team members to keep a track of their workflow from multiple aspects.
Furthermore, Teamly also provides the option to add new SOPs for team members or you can use the existing templates and customize them based on your needs.
Video Recording & Screen Capture
While working with remote teams, one problem that I have often faced is regarding explaining complex ideas and making sure everyone understands what they need to do and how they need to do it. Sometimes, it becomes hard to remember everything or your team members are not paying attention and miss out on critical aspects. As a result, when you review the task, it is not up to the mark and you need to go through everything again.
From that aspect, I found Teamly's Screen Capture feature with Video and Audio recording capabilities very effective. As someone who often needs to explain complex ideas, the Screen Capture feature makes it easy to do so.
My team member had many questions regarding one of our projects. Rather than writing a long email, I simply recorded a short video with the click of a button and shared it with the team. And that did the job very well.
This feature is particularly useful for remote teams, where communication can often be a challenge.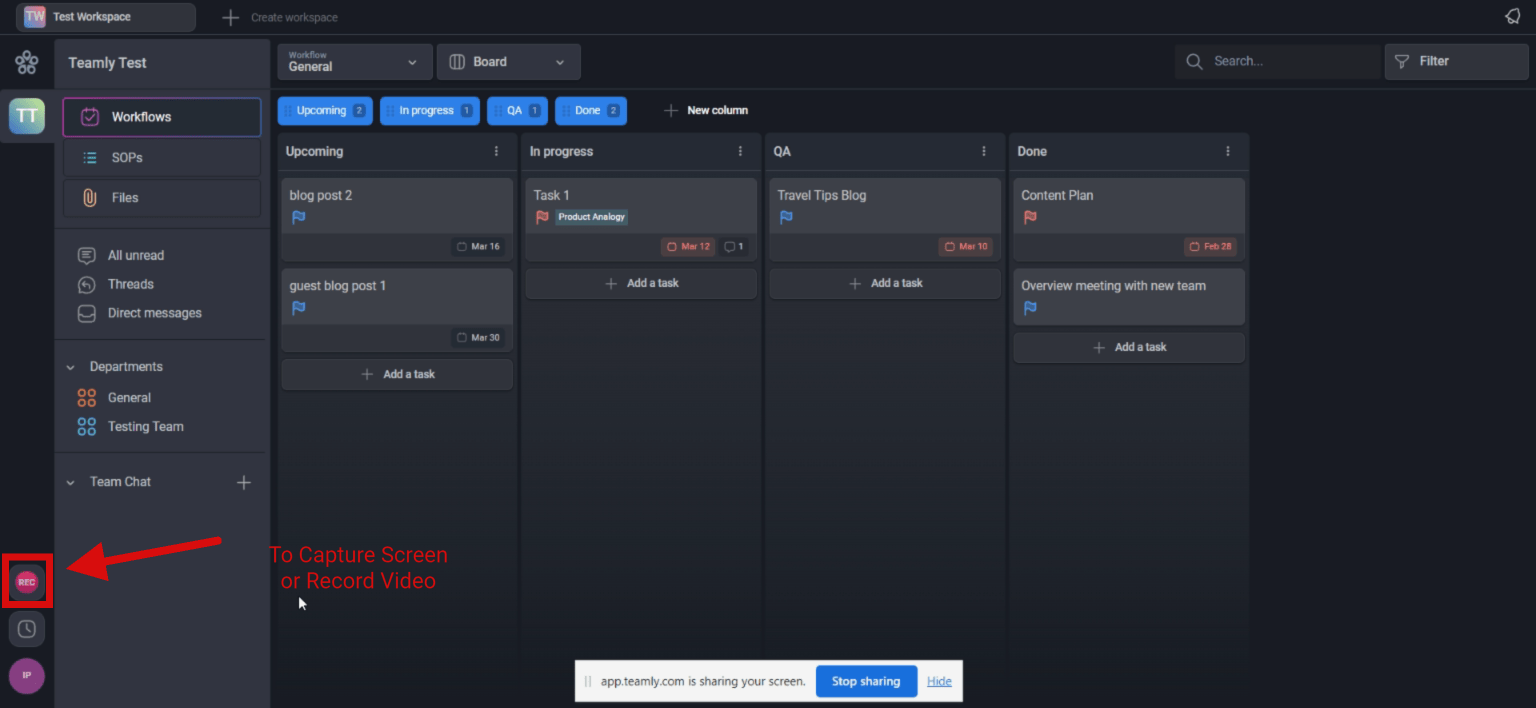 Time Tracking Module with Payout Calculator.
Teamly's time-tracking module is another great feature that can help remote teams stay on top of their projects. With the ability to track and monitor each team member's hours worked, managers can ensure that everyone is working efficiently and that projects are progressing as planned.
The time tracking module also helps to increase transparency, allowing team members to see how much time they have spent on a project and how much time is remaining.
Another significant improvement is that Teamly's time-tracking module also captures screenshots every 10 minutes. That allows managers to ensure their team is working effectively rather than wasting time. Along with total time, they can also see the number of sessions and time spent during every session during a day, week, month, or even year.
Above all, Teamly's time-tracking module also allows managers to add payout rates for every team member. You just set the amounts for every teammate and Teamly takes care of the calculations based on the time they spent working.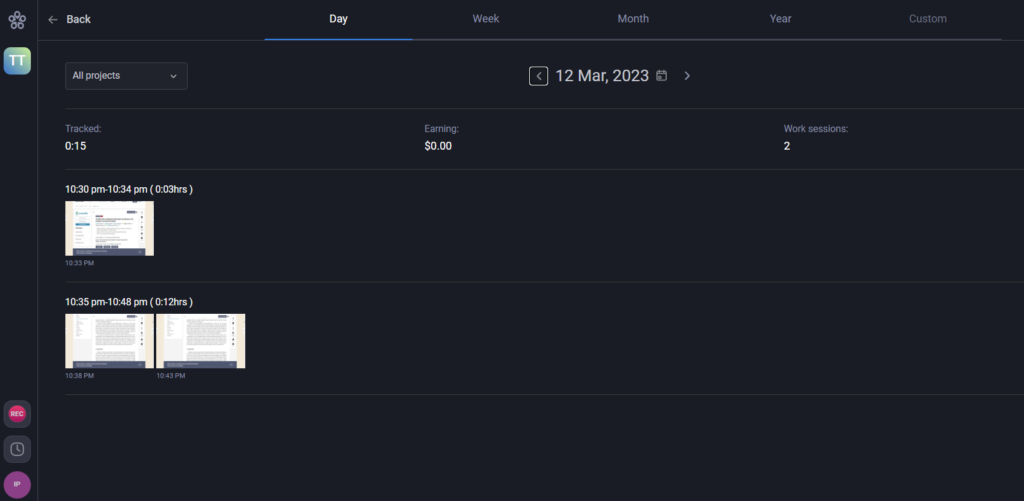 How much does Teamly cost?
Teamly offers a range of pricing options to suit the needs of different businesses.
The good news is that you can start using Teamly for free with unlimited users, which is a great option for small businesses or startups. The free plan includes all the basic features you need for project management, such as task and workflow management, chat messaging, screen capture recording, employee time tracking, and more.
For businesses with more demanding needs, Teamly offers two premium plans: Pro and Business. The Pro plan is priced at $5 per user per month, and it includes additional features such as larger storage capacity, more projects and departments, private department permissions, unlimited chat messaging, longer screen capture recording time, and more.
The Business plan is priced at $9 per user per month and offers unlimited storage, projects, and departments, along with unlimited chat messaging, screen capture recording time, workflow automation, and more.
Teamly's pricing structure is affordable, flexible, and scalable, making it a great option for businesses of all sizes. The free plan allows you to test out the platform and see if it's a good fit for your needs, while the premium plans offer additional features and functionality for more advanced project management requirements.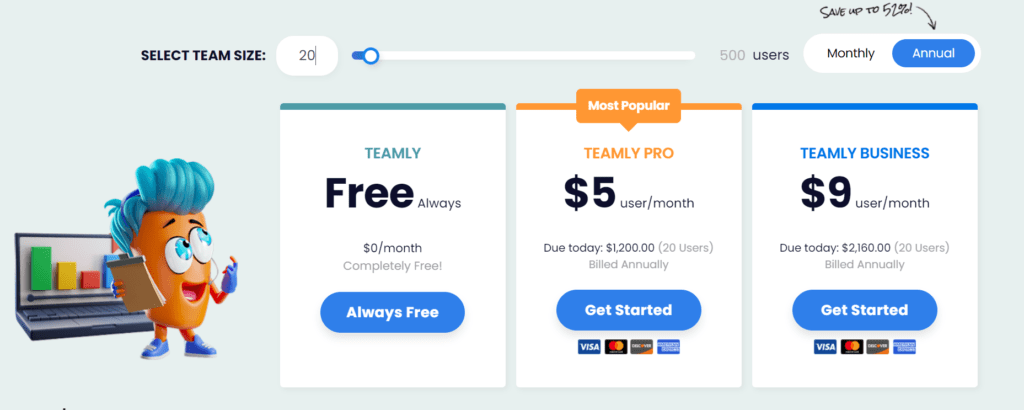 Concluding Thoughts
Overall, I am impressed with Teamly and would highly recommend it to remote teams looking for a comprehensive project management tool. Its range of features, including chat, task management, screen cam video, and time tracking, make it an ideal tool for remote teams. Additionally, its customizable settings and affordable pricing make it a great option for businesses of all sizes. If you're in the market for a project management tool for your remote team, I would definitely recommend giving Teamly a try.